Restaurant Review - A Brace of D6 Dining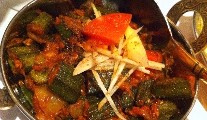 Monday 07 May 2012
We recently had two outings to Ranelagh's big sister -- Rathgar. Ranelagh is awash with restaurants, so restaurateurs are moving to the affluent D6 roads of Rathgar.
We set forth on a Tuesday night to the new Beckett & Bull on Rathgar Avenue, only to find that they close on Mondays and Tuesdays. Our mission wasn't fruitless, as we discovered the brand new Mehek, an Indian eatery, on Rathgar Road.
Mehek has a striking black exterior and a clean-cut, architectural white and grey interior, with pristine white napery, crystal candlesticks and beautiful water-lily lampshades. The food was traditional in style, but it was very good. Starters were €6.95-€11.95 and Brendan opted for seekh kebab khyberi (€7.50), a trio of minced-lamb kebabs, which were spiced, cooked in the tandoor and served with mint chutney -- tasty. Kesari jhinga (€11.95), for me, proved to be three "jumbo" prawns adorned with pineapple and dry mint chutneys, and fresh mango cubes that could have been a bit riper.
There is an excellent selection of chicken, lamb, and prawn dishes, at €16.50-€18.50, plus thali selections at €19.95-€23.95. I had an excellent South Indian spiced lamb chettinad (€16.50) with succulent lamb cubes, aromatic star anise, black peppercorn, and coconut milk, while Brendan enjoyed a rich, almost caramel-y murgh tikka masala (€16.50) and pilau rice (€2.95). I loved a side dish of achari bhindi (€6.95) -- fresh okra tossed with ginger, red onions, turmeric, fresh coriander and pickling spices. To finish, we shared a moist, moreish orange and poppy cake (€5.50). The chef here has just the right balance of spicing. With a bottle of New Zealand Wingspan Sauvignon Blanc 2011 (€28) and optional service, our bill came to €105.85.
Undeterred, we returned next night to Beckett & Bull. Starters were €4-€9, with mains (€12-€24) ranging from 8oz burgers and 'gourmet' pizzas, to fish and chips and chargrilled tuna steak. My friend Rena opted for the 2/3-course early bird (€19/€24) -- her chicken-wing starter was very good. I ordered "fresh crab cakes on avocado salad with a crunchy lime-infused salad, sourdough slice" (€9). Crab cakes are an American specialty, and are usually crabmeat mixed with a binding ingredient and sauteed. What arrived was a cold tian of crabmeat layered with avocado. It looked nice, but it was a very cold night and I had opted for the warmth of sauteed crab cakes. "That's the way we serve them", the chap in charge said. "We're an American-style restaurant, and that actually is a recipe from California." "You would want to tell your customers in advance", I replied, "because that's a French-style tian and not crab cakes as understood." It also didn't have the billed sourdough slice. The ensuing panko-coated chunky calamari, which arrived tout de suite, was fine.
Linguine with seafood, for Rena, was enjoyable, she said. A rib-eye steak (€24) for me was tender, although two lean cajun-coated onion rings on top belied the usual tower version one would expect in an 'American-style' restaurant. A cup of brown gravy, called "bourbon and espresso sauce" on the menu, brought nothing to the party. Chunky fries were good. Mustard and ketchup had to be requested and were dispensed in little dishes -- a bit of a "no problem" performance.
With a bottle of Southern Lights Sauvignon Blanc 2010 (€26), for which "we don't have any coolers but can keep in the fridge", and optional service, our bill was €85. They have lovely toiletries in the loos, but they need to sharpen up on details. Just don't try to be too cool, guys -- better to be a good neighbourhood restaurant than a too-casual, hip spot.
Mehek,
91A Rathgar Road,
Dublin 6.
Tel: (01) 490-2003
Beckett & Bull,
53 Rathgar Avenue,
Dublin 6.
Tel: (01) 498-0011
www.lucindaosullivan.com
Originally published in