Greystones - a Great Place for a Day Out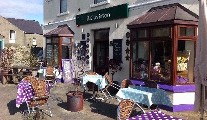 Thursday 19 April 2012
Greystones has had a renaissance, with new and more established businesses staying afloat, says Lucinda O'Sullivan
THE once sleepy Edwardian holiday town of Greystones, Co Wicklow, has seen a burgeoning of new businesses from fashion to food and wine, flowers and gifts, cafes and restaurants and a hip pub. On a recent visit I met some really enthusiastic people working hard to keep their businesses on course in these times.
As you drive up Church Road you see people dining outside A Caviston's and The Happy Pear, which are side by side. Nearby is Azur shoe and accessory boutique, only six weeks old. It is the venture of Brigid Whitehead, and she clearly has a flair as she has bought like an expert. Her taste is impeccable, with a sparkling array of lovely shoes, handbags and classy costume jewellery and belts.
"I have been in publishing, but this is something I always had an interest in. We have a small publishing company in Bray where we were publishing interior and architectural magazines for almost 15 years, but we decided to take a year out. Business is tough.
"I worked for a year on my own... I just decided life is too short and I needed to start looking at something else."
Last October Brigid started researching her new business and found her premises.
"I just love it. I am delighted, I am a people person. I did the bulk of my research on the internet."
Brigid's aim was to stock quality products at the right price, which she has done. "I have been very busy. I couldn't anticipate how it was going to go -- it was a roll of the dice! I have tried to source things you can't get elsewhere."
Azur has a lovely range of costume jewellery by Martine Wester from London and a beautiful Danish range, Tokyo Jane, with bangles from €18. There is a fantastic range of bags by Martine Wester, shoes by Marco Moreo, and espadrilles by Vidoreta of Spain. Look out too for classy recyclable Canadian bags Matt & Nat.
Next door is the Greystones Eye Centre, where I met Ken Murray. Ken says, "Although it is a very tough trading climate out there, we are going from strength to strength due a very loyal customer base -- but also to an increasing number of visitors from south Co Dublin."
The Eye Centre has an extensive range of ophthalmic frames and sunglasses, including Gucci, Ray-Ban, Marc Jacobs, Bvlgari and Chanel.
Nearby too is Sophie Rieu's Garden of Unicorn sustainable designer label, where you can have her lovely designs made to measure.
Across the road is the authentic Italian Caffe Delle Stelle -- owned by Tomasso and Nadia, who used to have Papa's Restaurant in Blackrock, Co Dublin. They have a great value daytime menu.
Next door is the edgy Toil & Glitter boutique, with many Scandinavian clothing ranges. It stocks all sizes and has some funky labels, including Odd Molly.
The very popular Georgio's Shoe Boutique, owned by Cheri Feely and Yvonne Boland, has been on Hillside Road for 10 years. "We do a lot of mid-market comfort ranges from Germany --the Rieker, the Ara -- as well as dressy shoes for weddings."
Moving down the street I passed the new, hip Mrs Robinson Bar with its funky retro decor and sofas. It is proving a big hit in the area.
At Browzround gift shop I met Lana Kelly and Sandra O'Connell, a mother and daughter team in business for three years.
"We love it and people seem to enjoy coming in. It's a happy shop," they say. "We appeal to all different budgets and tastes. Before, the big focus would have been on furniture, but we now focus on giftware and smaller pieces of occasional furniture and that really works for us."
They have gorgeous 'Gifts in a Tin' at €13. There is a sewing set, "perfect if you move into a new house", as well a 'car driver's gift set' for passing your driving test.
Damian Sherlock's fab La Touche Wine Shop, at La Touche Place, has 700 interesting wines plus foodie gifts. It is a very friendly place and Damian's knowledge is unparalleled. "I opened 18 months ago. I was 17 years with McCabe's Wines and then seven years with Donnybrook Fair's Wine Bar. I finished up in April 2010 and I decided to do consultancy work and then I realised that consultancy is like a sponge -- they just squeeze you for every drop and then probably see you again next year."
Damian set up his wine shop and works seven days a week. "I keep my foot on the pedal. I do the wine fair in November and have now had two Christmases. I do a lot of wine dinners, including one a month with local restaurants Bochelli's and Vina Pasta." The next one is on Thursday, April 19, at Vina Pasta with Carpineto wines from Italy.
"I specialise in boutique wines from €7 upwards. I work on low sulphides, less acidity, well-balanced wines, so you can come here, buy your wine, enjoy yourself, but be able to take your head off the pillow the next day. I understand the Irish palate. There is an age thing as well. I can understand what 20- to 30-year-olds like and, as we get a bit older we like something more delicate, a bit softer."
Look out for Angosto Blanco 2011 from Valencia at €11.99, which is made with the Viura grape variety -- it is amazing. Damian does a lot of customised gift sets and you can also have a little cheese and cracker hamper for going to the beach. I was also greatly taken with a Giuliana Pinot Grigio at €11.99 in a plastic bottle which is absolutely perfect for picnics and BBQs.
"If people accidentally leave this plastic bottle at the beach it doesn't do any harm to anyone if they fall on it but, if they bring it back to the shop, or somebody else brings it back, they get €1 off on their next bottle. I do this because it makes people aware and helps keep the beach clean."
Jars of rillettes, pestos, chutneys and Brie dishes are all on offer. Damian is also planning tastings to tie in with the football, Olympics and the Tall Ships visit to Dublin.
Next door is Juju, a boutique stocking urban cool chic and classy understated clothes, including Sonia by Sonia Rykiel, and Sphere One by Lucy Downes, an Irish label.
Just alongside Juju is Flowers by Lynda, with a lovely display of affordable flower arrangements and gifts.
Also in La Touche Place, Suzy Kenny has a great shop called Paraphernalia, filled with gemstones, crystals and candles. It is a shop full of fantasy and imagination, and you will always find something you want as a gift. Suzy is a long-term Greystones resident who worked as a fine art agent for many years.
"My kids were tiny and I never got to see them, and so eventually I thought, what can I do? I like making things. I use freshwater pearls and make jewellery: brooches, earrings, bracelets, and pendants. When I started up I was trying to cater for babies, grannies, teenagers, kids. I was known as the hippy shop because of the incense and the candles."
Sandra Fitzgibbon has always collected vintage jewellery. Originally a legal assistant in Canada, she came to Ireland a few years ago with her Irish husband. She actually started out selling just Belgian linens and Polish pottery at her Linen & Ware Vintage Too shop but expanded into vintage dresses, furs and jewellery, and Irish linen.
I spotted a lovely Astrakhan jacket with a musquash collar at €375. She also has fantastic Fifties-style chic little hats which are perfect for weddings. Look out for beautiful bridal headpieces, which Sandra makes from vintage brooches, and hand-knitted tea cosies made by a 'Greystones granny'. Everything in the shop is either vintage or handmade -- a treasure trove.
I couldn't leave Greystones without calling to visit its most famous inhabitant -- Bridie Mooney of Mooney & Sons, where everybody goes to buy newspapers, sweets and more.
"My bark is worse than my bite," she laughs. "I came here almost 60 years ago. I was originally from Hacketstown. I got married and my husband and I bought this business 59 years ago."
Make a day trip to Greystones, it is well worth it. Sun, sea, sand, sipping, shopping, savouring... and the Dart runs into the centre of the village.
Originally published in the Sunday Independent.