Breakfast Like a King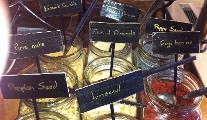 Monday 09 April 2012
EASTER Sunday is the perfect day to indulge in a super- duper breakfast to fortify you for all that Easter egg hunting with the kids! "Breakfast like a king, lunch like a prince, dine like a pauper" is sage advice.
The word itself literally means to 'break' the 'fast', and there is a reason for it. Breakfast is the meal that the body uses to top up its glucose levels to set you up for the day after eight to 12 hours of 'fasting' in bed. Skipping it is a false economy, physically and financially.
For the Victorians and Edwardians, breakfast was a major event where in houses of stature it went on half the morning. "Most households were cheerfully resigned to breakfast," wrote Lady Cynthia Asquith. Sideboards were laden with silver chafing dishes, sitting over little blue flames, keeping the bacon and eggs warm.
Wallops of kedgeree made with salmon or smoked haddock were the thing, plus kippers, and sauteed kidneys oozing juices. There might be Scotch woodcock -- which is scrambled eggs made with egg yolks and cream, spread on toast with anchovy paste -- haddock in puff pastry, and a big dish of jelly.
Of course there was always fruit, and porridge to kick off with, and scones and toast abounding; you passed the marmalade to the left. Is it any wonder so many ladies of those generations lived to a great age -- I think of all my old great-aunts who lived to their 90s; no stress: their lives revolved around keeping the household in order.
The Continental breakfast with a bit of baguette, a croissant, and coffee, speaks volumes for itself when you see French people dashing into restaurants for lunch on the dot of noon -- they are all starving by then.
After the war the American-style breakfast cereal became so popular for speed and convenience that in the mid-Fifties the British government launched the ad campaign with the slogan 'Go to Work on an Egg', featuring a great TV ad with Tony Hancock and Patricia Hayes arguing over the newspaper crossword puzzle as to whether the four-letter word with protein was 'eels' or 'eggs'. Eggs won out. It was a massively successful and memorable campaign.
Breakfast is the meal I most look forward to. I had a friend whose biggest treat was to go into a posh hotel for breakfast. When my boys were small we often had breakfast in town as a treat. I love breakfast in hotels but very often they can be disappointing.
This is not the case at the River Lee Hotel in Cork, where general manager Ruairi O'Connor has strong feelings on the subject.
"Just as reception is your first vital guest interaction point, breakfast is your last experience when overnighting at a hotel or guest house, so it helps to leave a lasting impression," says Ruairi.
"Shane O'Sullivan, our executive chef, is a breakfast nut and has been continually improving and varying our offering. We endeavour to provide a wide-ranging breakfast which reaches across all of the health divides and all of the cultural divides. We have included rice and noodle soups for some of our Asian groups in the past.
"We want our breakfast to be a lasting, enjoyable experience and not a rushed experience, hence on weekends we run breakfast until 11am. To date it has been the single most commented on offering we provide on Tripadvisor and our own online customer feedback forms.
"Each month we have a specific breakfast meeting, reviewing customer feedback, and we schedule our seasonal changes and all pitch our ideas for the month to come.
"We have a chef at the buffet each morning and one in the background preparing and supporting, and we also have a waiter dedicated solely to the cold buffet."
I was mesmerised by the minute detail and range of foods on offer at the River Lee breakfast -- from honey from the honeycomb, 20 different nuts and seeds and fruits and counting. The hotel is always looking to include new seeds and fruits with high health benefits, natural yoghurt, Greek yogurt and their own Bircher muesli. There was smoked salmon, smoked peppered mackerel, salumi, hams, lovely cheeses, plums, chopped kiwis, pomegranates, fruit salads, dried fruits, dates, apricots, watermelon, jams, preserves and lovely breads.
Its hot breakfast uses only free range eggs, cooked whichever way you like; Irish heavy cured bacon; West Cork black and white pudding, and sausages prepared by local supplier Quigley Meats.
"We grill all our hot items to keep fat levels to a minimum and we have Clonakilty gluten-free sausages at all times. Our porridge is organic, our smoked salmon is from Union Hall, our honey and honeycomb is from Mileeven Honey in Kilkenny," Ruairi gushes. "We also provide a list of options for anyone with special dietary needs -- this list is also increasing."
The breakfast dietary checklist includes gluten-free granola, bread rolls, and sausages, whilst the dairy-free diet has goat's cheese, buffalo mozzarella and soya milk. There are also diabetic and halal options, as well as wheat-free muesli.
The hotel is seeing a big increase in the amount of corporate breakfast meetings being held there -- and you can understand why.
I am noticing a big increase in the number of places adding breakfast to their repertoire, and I must confess it is pure indulgence and so relaxing to sit around, particularly on a weekend morning, and have a lovely breakfast handed to me whilst I trawl through the newspapers.
We are lucky to have Cafe du Journal just beside us on The Crescent in Monkstown, where you can either sit outside and bask in the weather -- it has a great location in that it is sheltered from the wind -- or sit inside. Chris Terry knows how to create an artistic ambiance. Walls are lined with bookshelves and paintings; it is just very relaxing, homely, bright and atmospheric, with all ages mixing happily.
The Eggs Benedict are delicious, with a divinely rich hollandaise sauce. The full, the mini Irish, and the vegetarian breakfast are all there too.
The weekend brunch menu runs from 9am to 5pm and includes eggs Florentine, Benedict, royale or baked with ham, homemade tomato relish and sourdough or multigrain bread. There are pancakes with fruit and creme fraiche, and bagels with smoked salmon and cream cheese, or with bacon, cream cheese and tomato.
A weekend lunch menu kicks in at noon and runs simultaneously, offering seafood chowder, posh sambos, and salads such as dressed crab with avocado, mixed leaves, roasted peppers and homemade mayo, or grilled mushroom open sandwich with melted brie and black pepper. All dishes on both menus are well under €10. The cafe has provided a new realm of casual relaxed dining within the village.
Needless to say there is a bevy of tempting cakes from lemon drizzle to Belgian chocolate, carrot cake to chocolate brownies, and great 'cake pops' with funny faces.
Further down the coast, A Caviston Seafood Cafe & Restaurant in Greystones, Co Wicklow, has added breakfast Monday to Friday from 9am until noon, and dinner on a Friday evening. Its '100 per cent Full Irish' breakfast sports a list of 'celebrity' artisan names such as Ed Hick's sausages, Pat O'Neill's dry cured bacon and Jack McCarthy's pudding, served with toast, tomatoes, baked beans and local free-range eggs.
Caviston's also does homemade American-style pancakes served with its own mixed berry compote, or stuffed French toast. You can also add Highbank Orchard Organic Apple syrup as an optional extra.
It also serves lovely golden yellow scrambled eggs with smoked salmon as well as the ever popular '100 per cent Irish Eggs Benedict'.
Fish, of course, is synonymous with the Caviston name and it is the perfect place to sit outside in the sun and enjoy delicious prawns in garlic butter, or indeed any fish your heart desires for you can select your fish of choice from the wet fish counter next door and have it cooked for you.
We may not be Edwardian grandees, but add a kick to your breakfast by frying your eggs in chilli oil, sprinkling grated Parmesan on your scrambled eggs, putting a big dollop of honey in your oat bran, adding chorizo or crabmeat to your omelette, and using redcurrant sauce with your bacon and black pud -- your mornings will never be the same again.
River Lee Hotel, Western Road, Cork. Tel: (021) 4252700;
Cafe du Journal, 17A The Crescent, Monkstown, Co Dublin. Tel: (01) 2143854;
A Caviston, No 1 Westview, Church Road, Greystones, Co Wicklow. Tel: (01) 2877637
- Lucinda O'Sullivan
Originally published in