RESTAURANT REVIEW - A BRACE OF CORK GOODIES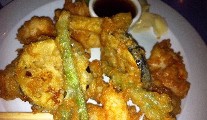 Tuesday 03 April 2012
The restaurant that undoubtedly made the overall biggest impact on the face of Cork dining is this year celebrating its 20th Anniversary in May. I speak of course of Isaac's Restaurant, which was opened in 1992 by Michael and Catherine Ryan and Canice Sharkey in the historic cavernous environs of the former Nat Ross furniture removals building on MacCurtain Street. It brought about a totally informal style of dining to Cork along the lines of the great brasseries of Paris. Everyone who was anyone flocked to MacCurtain Street for its brilliant atmosphere, and great casual food by Sharkey. A whole generation has passed, new restaurants have come and gone in Cork, but Isaac's is still doing what it has done from the beginning, great food at decent prices.
On our most recent visit, Brendan kicked off with a special of delicious pan-fried crab cake with chili jam and mixed leaves (€10.50) which was substantial, crabby and cracking, whilst I basked in the delights of a great plate of tempura battered prawns (€12), scallions, and aubergine slices, totally true to the Japanese template. The texture was light crispy and delicious as I dunked these whoppers in a soy dipping sauce – and I would definitely have that again.
I followed up with a delicious Lamb Korma (€18), which reminded me very much of French style curries served at the famous La Coupole Brasserie in Paris. Everything arrived on one big charger plate, a bowl of succulent lamb, a bowl with spears of mixed vegetables, a little dish of pickled cucumber and onion, mango relish and yoghurt, and a big poppadum sitting like a sail in the middle of the plate. Eschewing duck confit with chive champ and caramelized onions, steaks, and brill and plaice goujon specials, Brendan had a whopping portion of pan fried king prawns (€20.50) with chili and garlic butter and served with Provencal sauce, Basmati rice and coriander. He further indulged with caramel ice cream with butterscotch sauce and bananas, whilst I had a simple but lovely combination of Greek yoghurt with Healy's honey and lavishly carpeted with crunchy hazelnuts - both puds were €6.50 each. Absolutely yummy. With coffees (€2.50ea) and a bottle of House Selection Don Carlos Velazquez Rioja 2009 (€20) our bill with optional service came to €109. Here's to another 20 years.
And so to the latest addition to the Cork dining and wining scene, L'Attitude 51 at Union Quay, a really chic little place that could easily become a habit. There are of course copious wines listed as "Crisp with Attitude. Nutty & Toasty, Herbaceous, Fruit Driven, Fruity with Atittude, A Hint of Spice leading up to the slightly more expensive numbers And For Meditation." 90% of the wines are available by 150ml glasses, 250ml pichets and the bottle. If you can't decide what you want to order you can also have a 75ml taster measure. The food speciality here is charcuterie and salumi platters (€8.50/€12.50) sourcing from Irish, French and Italian craft butchers and artisan producers. The also have small plates €4.50/€9.50 such as anchovies with roasted pine nuts, sultanas and capers or Feuillete filled with black pudding or spinach and goat's cheese. At lunchtime they do great big posh sandwiches at €5.50 filled with goodies such as fennel, salami and grana, or roast Butternut squash and Buffalo Mozzarella. I had a fantastic rustic soup of ham hock and country vegetables (€4.50), which was almost a meal in itself. Brendan had a brilliant special of Gratin Dauphinoise with Jack McCarthy's black pudding, a real treat and only €6.50. I followed the soup with a lovely mixed antipasti platter (€9.50), which had Braesola, Irish Parma ham, Speck, Gorgonzola, Pecorino, almonds and two more cheeses. Simple but cracking. With a brace of pichets at €11 each, an aromatic Alsace Meyer Fonne Pinot Blanc 2010 for me and an Australian Cat Amongst Pigeons Cabernet Sauvignon 2008 for himself, a double espresso (€2.80) and optional service, our bill came to €49.50. Here's to 20 years of L'Attitude also!
Isaac's Restaurant,
48 MacCurtain Street,
Cork,
Co. Cork.
Tel: (021) 450-3805
L'Attitude 51,
1 Union Quay,
Cork,
Co. Cork.
Tel: (021) 239-0219
www.lucindaosullivan.com
FIRST PUBLISHED IN THE SUNDAY INDEPENDENT.