Our Latest Great Place to Eat - Las Rada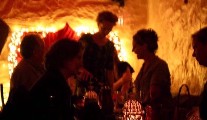 Friday 30 March 2012
If there is one thing that Jules and Joanne Bradbury know how to do really successfully it is to create a relaxed casual restaurant with great atmosphere that people feel they are part of and want to return to time and time again for their regular nights out.
Las Rada in Naas is colourful and fun, packed with kitschy décor that transports you to the colourful realms of the Mediterranean or North Africa and you haven't even left Kildare.
READ ALL ABOUT LAS RADA ON THE RESTAURANT SIDE OF MY WEBSITE.
ENJOY,
OLE,
LUCINDA