Restaurant Review - 777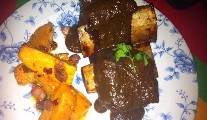 Wednesday 28 March 2012
Some so called hip eateries have a real attitude nowadays. Many of them have a list of conditions before they agree to accept my dosh, and it certainly never gets me off to a great start to be told "booths -just a row of back to back tables- are only for parties of 4, I can offer you seats at the bar, and we need them back at 8 pm" – 2 hours and it was midweek. Had I not already had wind of this policy via an annoyed Twitterer, not to mention gripes on Facebook about their €13 Mojitos, I might have told them to stuff it. In the event, on arrival, they granted me a table. However, since my visit they only take bookings for parties of 6. It is "rock up " only which is a euphemism for 'we couldn't be arsed taking your booking we'll fill anyway'! It strikes me as arrogant and greedy and I don't like it more particularly when, if you go through the full Monty in what is but casual gastro bar, you can end up with a bill that would go a long way in a Michelin starred eatery.
That apart I liked the old retro 1950's style Havana long bar, white brick tiled walls, and great ceiling. Not sure about the Sexy Mexy erotic pictures on the black loo walls, as on our visit there were young children going out to the toilets, accessed by walking through the kitchen. Not sure either about the unisex communal 'vintage village water trough' for post pee ablutions - which had a black curly hair floating in it! 777 is the brand new sibling of Dillenger's and the Butcher's Grill in Ranelagh but this time, instead of sitting in a shop window, the darkened entrance is total Hernando's Hideaway. The food is Mexico via New York with copious Tequila cocktails at Celtic Tiger prices, which no doubt will have the George's Street weekend crowd beating the doors down!
Kate kicked off with a fiery El Gigolo de Goma cocktail (€11.50), whilst I had another concoction called Pomelo Quemada (€13). The Dinner Menu included Tostadas €9/12 with various toppings. Kate ordered the crabmeat (€11) variety which had a brace of tortillas about the diameter of a tin of beans, looked pretty topped with a bland mix of chipotle mayo enhanced crabmeat, mango cubes and shavings of cabbage. A starter special of rice noodles (€14) with mussels and langoustines, had great flavour and aromas but with three or four mussels and two overcooked split mushy prawns in their shells, it wasn't worth shelling out the "few dollars more." Mains €18/€25 – from the wood burning grill – featured spicy pork ribs, grilled pork chop, rump steak, roasted organic chicken, all Mexed up with sweet plantains, chimichuri, smoked bacon or onions. A brace of braised beef short ribs (€20) for Kate proved tender and chunky smothered in 'Mole' a thick brown sauce, with a small sweet potato garnish. Fillets of John Dory (€25) for me were smothered in a Recado Rojo spice paste, very good but top dollar. Sides of Camotes Bravos (€5) -sweet yam and chili – were tasty as was Elotes (€6) - a pricey split chargrilled corn on the cob.
For dessert, I had a basic flourless chocolate cake (€7) served in a cup with icecream. Because there was no printed dessert menu, our pleasant waitperson called out the offerings. She listed off four icecream flavours and Kate said she'd have them , not realising that they were €2 a scoop and she didnt have to take all four.
With a bottle of Cimbron Rueda 2010 (€24) and optional service we were into a bill of €158.50! Cool maybe, but not cheap. Unless you keep your hand under your poncho you could spend a fistful of dollars!
Looking up and down the bar, and gazing a tad shocked at the bill, Kate shrugged and said "it's not that special – it's just another place!"
777,
7 Castle House,
South Great George's Street,
Dublin. 2.
Tel: (01) 425-4052
www.lucindaosullivan.com
FIRST PUBLISHED IN THE SUNDAY INDEPENDENT.