Restaurant Review - Bear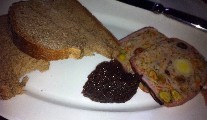 Friday 23 March 2012
Much has been hyped on the collaboration of Joe Macken's Jo'Burger Ltd and rugby international Jamie Heaslip at the new Dublin steakhouse, Bear.
Macken is a great man for a gimmick. He started with Jo'Burger in Rathmines, where the menus were presented in comic books. A big success, but it didn't travel well to Blackrock, where it failed spectacularly -- and where, incidentally, we endured awful service on our visit.
Cutting a swathe through popular casual-food concepts, he has expanded into the chicken lickin' fowl world with Crackbird, which was launched through Twitter. Some have remarked that they found this gimmick that bit too ultra cool and contrived; as one young guy said "a bit too up its own arse". The next casual food to be tackled was the pizza, with the recently opened Skinflint. Now it's the bovine world with Bear, whose speciality and boast is that they are using less expensive cuts, with no sirloins or fillets. But are these that much cheaper on your plate? I always say you get what you pay for. Also, in his rush to conquer Dublin's casual-food world, he needs to remember ideas are great but, just as in rugby, they have to be converted into scores.
Bear is on two levels with a rustic, timbered ceiling, a long bar, and mainly high communal tables. The menu had "Smalls", being fried chickpeas at €3.50, or thick-cut bacon at €6.95 -- the latter was not available. "With Toasts" was a range of starters with toast (€3.95-€6.95). Truffled hen's egg and mayonnaise (€4.95) wasn't the expected egg with the mayonnaise served separately; it was a tasty sandwich-type mix of egg mayonnaise served in a glass jar. Spicy pork carrot and pistachio slice (€6.95) was two thin slices of terrine -- a tad on the chilly side, thus dispelling flavour.
And so to the less expensive "Grill Cut Steaks" from €9.95 for a pope's eye to €24.95 for a 16oz rump steak. Sharing steaks are available (€24.95-€59.95). Brendan had an 8oz rump (€14.95) and I had a 10oz rib-eye (€19.95). Sides are extra at €3.95-€6.50 -- and sauces, including gravy or mustard -- are €2 a pop, so it can all add up: the Ryanair of steakhouses.
Both steaks proved tender and good as was horseradish slaw (€4.50) and saute kale and garlic (€4.50). Fries were not great at €3.95.
However, as we were in the middle of our starters, a second waitperson took over from our initial charming and well-informed girl. They stood in front of us, holding two plates aloft, saying we should have been told that our food comes out the minute it is cooked, as it comes from the bar. "Will I take them back?" she said. "That would make more sense as we are in the middle of our starters," I said, thinking they would keep them warm. "You should have been told," she said again accusingly, as if it was my fault.
A few minutes later, she returned and stood and said yet again, "You should have been told; we are doing fresh steaks for you and they will be another eight minutes." She didn't look me in the eye, nor wait for a reply; she just strutted off leaving us quite shaken -- and destroying what up to then had been a pleasant evening under the auspices of her helpful colleague.
We immediately got our bill on finishing the food. At this point Joe Macken arrived into the restaurant and introduced himself. On his enquiry, I told him we'd had very unpleasant service from one young lady. He said he would take care of that and he did by promptly tweeting, "Just had the most bizarre experience with @lucindasireland in @bearDUBLIN."
Our bill with a bottle of Domaine Boisson Cotes du Rhone 2009 (€25) was €97.75 for two courses including a tip for our initial waitress. Not cheap. If advising the owner of bad service is "bizarre", so be it. "No reservations, walk-ins only . . . just rock in anytime." Tweet less and train your staff, Mr Macken.
L
Bear,
34/35 South William Street,
Dublin 2.
Originally published in the Sunday Independent