Restaurant Review - El Toro Bravo & The Black Cat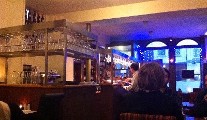 Monday 12 March 2012
Antony Worrall Thompson hit the headlines recently for all the wrong reasons, a far cry from 30 years ago when he started Menage a Trois, a restaurant serving only starters and desserts, which became a favourite eatery of the menage a trois girl herself, the late Princess Diana.
No doubt the irony of the name was not lost on her as she later commented, "There were three of us in this marriage."
Wozza was way ahead of his time with this concept, which is going down a treat nowadays with eateries opening hand over fist doing small plates, big plates, tapas et al. Women love the two-starters option, or a starter and dessert, dumping hefty main courses.
El Toro Bravo is a new tapas spot on Dublin's South Richmond Street. With a long bar counter, cigar-brown, tongue-and-groove woodwork and wine-stacked shelves, it has the feel of a long-standing little bar down a side street in Palma. The chef is Spanish, as were the two delightful floor staff, while the owner is Iranian.
The selection of aperitivos, ensaladas, especials, platos and raciones, comprising carne, marisco and vegetables, was extensive. Prices started at €2.90 and included torreznos -- fried pork with mustard; alcachofas con jamon -- pan-fried artichokes infused with garlic olive oil and serrano ham. Pork loin is on toasted bread with Oporto sauce while chipirones are grilled baby squid. Tapas stalwarts feature too -- boquerones, calamari, chorizo, patatas -- con bucketloads!
My senor hopped on sardinas a la parrilla (€4.20) -- which proved a brace of excellent grilled sardines sprinkled with parsley, oil and lemon, followed by caldereta (€6.45), a good little terracotta dish of tender lamb stew with 'hot' smoked paprika, peppers and garlic, served with a baguette. Very tasty -- but it could be hot, hot, hotter. My contribution to the tapas table was scrambled eggs with eel (€3.50), clams (€5.50) and Basque cod (€3.50). The scrambled eggs were delicious fine threads of eel glistening through a golden yellow cloud, while the clams were bathed in a good tomato sauce with garlic. Basque cod consisted of a decent square of the fish sitting in a tomato sauce, topped with a slice of hard-boiled egg. Tarta de Santiago (€4.50) -- Galician almond tart -- was served with cherries and cream, while I had my favourite Manchego sheep's milk cheese (€6.85) with a little dish of honey. With a bottle of Lagunilla Crianza 2007 (€28) our bill with optional service was €68.50. This is a characterful place; a brave little bull indeed.
Our second tapas venture was to the new Black Cat, a tapas bar in Salthill, Co Galway. With an urban-cool modern feel, over two rooms on either side of a hallway in a Georgian house, jazz is big here. It offered a much more contained menu of what I'd call small plates rather than rustic-type Spanish tapas; more Cliff Richard than Antonio Banderas, and more expensive. However, as small plates of modern food they were, in themselves, well executed and pleasant.
Fig and Gorgonzola salad (€8) was excellent with plenty of cheese, walnuts, fruit and toasted brown bread, while cod, salmon, calamari and Galway Bay seaweed fishcakes (€9.50) were three chunky chaps served with mayo and a nicely dressed salad with olives and cherry tomatoes. Aubergine rolls (€8.50) were, again, another menage a trois snuggled together on a plate and stuffed with tuna salad, wrapped in grilled aubergine slices, and dressed with rocket and shaved Parmesan. The calamari (€8) was a weak dish -- they were of the dusted dry variety and too rubbery. With a 50cl carafe of Foundstone Berton Shiraz 2009 (€14.50), our bill with optional service was €53.50. Nice spot, but more bull's balls needed!
L
El Toro Bravo,
27 South Richmond Street,
Portobello, Dublin 2.
Tel: (01) 475-8460
Black Cat,
179 Upper Salthill,
Galway, County Galway.
Tel: (091) 501-007
www.lucindaosullivan.com
Originally published in