Restaurant Review - Two Little Crackers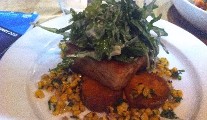 Wednesday 22 February 2012
I am writing this review on a Saturday evening, having failed to secure a table in a number of Dublin restaurants.
Well, perhaps I could have had a table if I was prepared to play the two-sittings game -- 6pm or 9pm -- or sit in the upstairs function room. And they say there is a recession on. It seems there is a pack-'em-in attitude at weekends, which always gets up people's noses -- including my own.
On a positive note, one thing I am also noticing, particularly in Dublin, is the burgeoning number of small, bistro-type restaurants offering good-value menus. These were in scarce supply during the CT years when everybody wanted big and bigger, flash and flashier, and many went up in the biggest flash of all; now, small is in vogue again.
Eastwood & Mays is a new deli cafe on Stephen Street Upper doing dinner Thursday to Saturday. The head chef, Nuti Isbanda, has worked in many Dublin restaurants, including the now defunct Mermaid Cafe.
It's on the lines of a little place you'd find on a side street in Paris rather than in Dublin; it's a place the locals know about, where you are well fed in an informal, slightly arty fashion. Starters (€4.85-€7.95) include ham hock and pistachio terrine with apple and plum chutney, or maple-poached pear salad with walnuts, blue cheese, chicory and honey mustard dressing. I had some excellent duck rillettes (€7.95) which came with pickled plums, smoked rosemary oil, grilled bread, and mixed green leaves, while Mary had wonderful pan-fried prawns with chilli, shallots, garlic, olive oil, parsley and lemon.
Mains (€12.50-€18.50) included coq au vin with roast potatoes; and rib-eye steak with mash, green beans and tarragon, wholegrain mustard and roasted garlic butter. A blackboard special of venison stew with root vegetables (€12.50) proved rich, tender, and absolutely delicious, while Mary also loved her choice of smoked pork neck (€16.50) with Savoy cabbage, mash, apple and cider gravy. With two coffees (€2.20 each) and optional service our bill was €53.30. They also do a lamb tagine with roasted root vegetables and couscous and I have resolved to return for that, as this guy knows how to produce tasty food.
Another new little spot is Le Plancha in Blackrock, where they had a great early evening menu (2/3 courses, €19.95/€23.95) which offered superb value, particularly as on our midweek visit, this menu was available all evening. They describe themselves as a modern-Irish restaurant using influences from the Iberian Peninsula and France. I liked, too, that there were a couple of extra dishes on the blackboard with small supplements, such as a fillet steak with an €8 supplement, meaning the option is there to splash out a little more. I kicked off with a smashing salad of Roquefort which was lavish with blue cheese, chicory, glazed walnuts, onion conserve and roast apple: delicious. Brendan started with chicken liver parfait (€2 extra), which was sublime. It was presented on a slate with a dish of apple and raisin chutney, and a radish salad in the middle. The chef knows what he is about. Brendan followed up with grilled marinated breast of chicken, with a white bean and chorizo cassoulet, which was plentiful and delicious. I had pan-fried hake; the skin was nicely seared, and the fish came with French-style pearl onions, diced carrot, and pea fricassee with a tarragon veloute. Excellent side orders of big, chunky chips with sea salt, and green beans and broccoli, were €3 each. They also do charcuterie boards and steaks a la plancha. We shared a creme brulee and with a bottle of Bodegas Muriel Rioja Reserva 2005 (€26.95) and optional service our bill came to €88.85.
Two little crackers!
L
Eastwood & Mays,
17 Stephen Street Upper,
Dublin 2.
Tel: (01) 478-8088
Le Plancha,
22 Newtown Park,
Blackrock,
County Dublin.
Tel: (01) 210-3950
www.lucindaosullivan.com
Originally published in