Designing Women Are Jewels of the Downturn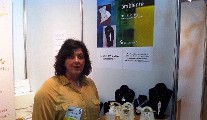 Monday 13 February 2012
FROM time immemorial jewellery has always had a fascination for people. It is the ultimate declaration of love, as we saw recently with the auction of Elizabeth Taylor's fabulous jewels, including the famous 33.19-carat diamond ring, and the pearl necklet known as La Peregrina, which was once worn by Mary Tudor and later by Spanish queens Margarita and Isabel. It was also painted by the 17th Century Spanish artist Velazquez.
Both of these amazing baubles, and other items, were given her by her two-time husband Richard Burton
We don't all have Richard Burtons in our back pocket but fascinating and decorative jewellery doesn't always have to cost an arm and a leg. What better time is there to think about jewellery than St Valentine's Day and we have some really interesting jewellery makers in Ireland.
I have recently been meeting people who changed career developing their creative side into businesses.
Helena Malone is an amazing goldsmith based in Portlaoise but who travelled the world and worked in many professions before finding her true niche back home.
Helena studied languages in Maynooth, after which she worked in a pharmacy, a bakery, sandwich shops, video shops, and a library for a few years. She worked in cornfields in Germany for four months pollinating maize to pay for college. She au paired in Paris, and often goes back. She also worked in AIB and at GE Capital.
Eventually she went to Australia in 2001 "to find herself". She travelled around Oz and ended up working in a gallery in Freemantle called Kidogo.
"Joanna Robertson, a graduate of NCAD owns and runs it, so it was a kind of exchange for living, helping her run the gallery," Helena says. "I loved it so much, I knew immediately I had been working in the wrong area. I came back and took an evening course in Dublin in jewellery design and ended up with Milo Fitzpatrick in Gemcraft Design. He encouraged me to apply to do the Jewellery Skills Course with the Crafts Council of Ireland in Kilkenny Castle Yard.
"I couldn't draw to save my life, but I applied, and they gave me a chance. It was 24/7 jewellery at the time, with Jane Huston as our tutor, and it was just a vocation. She still keeps in contact with all of us. We can ring her at any time of the day if we have a query or to help. She is an amazing lady. I haven't stopped since.
"I've won awards with the RDS Crafts Exhibition and awards from the Goldsmiths Society in Ireland."
Helena feels very lucky. She is passionate about quality and getting everything she can in Ireland, and promoting the Irish side of things.
"My inspiration is about the balance of a nice simple shape that stays uncomplicated. It is for someone who likes to dress really simply. Clean lines balance, and whilst they may be off centre, there is still a balance there.
"There can be a very fine line in something. I am a simple dresser, wearing black a lot of the time, so I like a simple necklace or ring. You don't have to be bombarded to look good," she says.
Her jewellery is stunning, architectural and sleek, with a seductive dramatic simplicity. She has the most gorgeous cornelian range. Very cleverly her pieces can be built on or adapted, add a diamond here or there for a birthday or Christmas. "They can spend what they wish, more silver or less silver, and then for a birthday add to the piece, the same at Christmas, a diamond or a birthstone. I work with many stones, including jasper which is a grey white mix, black onyx or a clear glass-like stone."
Helena also works in gold and platinum creating custom-made engagement rings.
"I remake from people's own jewellery, maybe their granny's ring, so I would use the gold or the stones. It is important to recycle what they have. Jewellery shouldn't be just left in a box. If you have a broken chain, or ring, every gram counts with gold, so if I can incorporate it at all into being remade and remodelled I'll do it. It saves money and brings a bit of nostalgia into the new piece, making it into a contemporary piece of jewellery which you will wear all the time."
Helena's jewellery can be found in the Design Yard in Dublin, Design Works in Cork, Michelle O'Connell Jewellery & Gift Shop in Kilkenny, and she has a range in the National Gallery of Ireland.
Clare Jordan is a mother of two, with a daughter in first year psychology in Maynooth and a son who started secondary school this year. She laughs as she tots up the numbers: "I have two children, a husband and a dog."
Clare started her eponymous ceramics business in October 2010 after being laid-off.
She had been an accounts manager with a Taiwanese company who provided support to Dell in their after-sales and warranty areas with various customer service issues.
"I had a long history of a core business background and trained in accounting years ago. I turned then to what was a hobby of playing with clay to creating unique art pieces in sculpture and jewellery. Everything is handmade in my studio, Swallows Rest Studio in Herbertstown, Co Limerick."
Clare has a passion for porcelain and creates unique, innovative designs in handmade jewellery and sculpture.
She says that porcelain reflects contrast very well, and that with varying degrees of translucency and decoration of handmade ceramic forms, she portrays the contrasts of fragility and strength often found in life.
"I have created quite a wide selection of four different ranges. Nauti Knots is based on nautical ropework whilst Parmour, which is Porcelain Armour, is a nice contrast of delicate porcelain against a chainmail armour look."
Summer Showers are candy colours in raindrops and clouds. But it is her award- winning Porcelain Passions range that has given her the opportunity to go to the Ambiente Consumer Goods Fair in Frankfurt, which takes place this weekend. Clare's Wearable Art is what she calls the range and she was selected from international competition to appear in the Next Carat area at Ambiente, the sponsored area for young, creative, niche suppliers.
"It is a great honour and opportunity as I am one of eight selected from around the world."
Clare says the business is going well but it is challenging in the Irish market at the moment. "I have established some nice sales opportunities around Limerick."
Clare Jordan Ceramics are stocked in the Hunt Museum in Limerick, in Draiocht Art Gallery in Adare, and in Morintino Jewellery in Limerick city.
As Zsa Zsa Gabor famously said: "I never hated a man enough to give him diamonds back."
See www.helenamalone.ie & www.claresceramics.com
Originally published in