Restaurant Review - Cinnamon, Ranelagh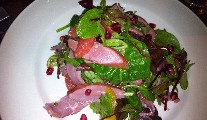 Monday 06 February 2012
Sunday February 05 2012
Would someone jump from behind the shelves any minute and shout "Gotcha"?
Was it a You've Been Framed TV stunt? Alas, no, not even that could save the chaotic service at Cinnamon, a new cafe and wine bar in Ranelagh. Greeted by a smiling young girl, we were taken to a small table for two, which was nestled between two other tables of people just inside the door. We were stopped in our tracks by another woman who shot across the room, took our name and left us standing there like dummies. A young man asked if we were OK, and, with that, the woman who had taken our name shot back. I glanced down the restaurant and she offered another table "back there".
We followed to find ourselves at yet another, sandwiched, tiny table for two. Overall, it's a fine space with a lounge area, a big bar counter and shelved walls lined with wine. It would add a new dimension and have a role to play in Ranelagh — if it were right. The menu was limited. Antipasti selections, which are basically assembly jobs, included O'Connell's organic smoked salmon with caperberries and creme fraiche; marinated roast vegetables with hummus, feta cheese, olives, dips and artisan breads; and Annascaul black pudding with sourdough toast. There were also three hot dishes at €9 a pop. Not quite sure of portion sizes, Brendan ordered home-made chicken and foie gras pate (€12.50) with spiced apple and pear chutney, specifying "to start", with jamon iberico de recebo (€12.50) for me, to be followed by lamb goulash and Thai shrimp, both at €9.
After a suitable duration, our 'friend' came to tell us that "the pate was not ready yet — it would be another hour"! It seemed incredible to be making it during service. We substituted with Beechwood smoked duck breast (€9.50).
The first dish to arrive was the duck breast along with the Thai shrimp — one starter, one main — the two last dishes ordered. More confusion and the chef looking at dockets. Further delay, until a waiter arrives with another dish — not ours.
Our 'friend' comes back again. "How difficult is it to work out that we get the antipasti starter and the duck salad together and follow up with the two hot dishes as requested?" I asked. The pity of all this is that when the cold plates arrived, they were good. Lots of duck breast had blood orange segments, pomegranate seeds and mesclun greens drizzled with a honey balsamic dressing, while a decent charcuterie board had 36-month cured ham from Guijuelo, Spain, salchichon salami and grilled chorizo, olives, pickles and grilled artisan breads.
Thai shrimp to follow was served on noodles with a very piquant dressing, while lamb goulash in a little pan was very tender and delicious with grilled bread — and both were good value. Almost unbelievably, as we were midstream, the woman in charge arrived yet again saying the pate was now ready if we would like to try it. Hello? While we were eating our goulash and shrimp, she appeared again: "Here you are, your half cheeseboard!" "Who ordered that?" I said, and she went to find the correct recipients.
We had a nice young waitress intermittently, but I wasn't impressed to see a sloppylooking waiter tweak his nose as he walked towards the service hatch to pick up plates for our neighbouring table. It reminded me of the waiter, the diner and the hard-boiled egg story.
After an age, we managed to order gluten-free choc Capri (€4.20) and financiers almond biscuit (€2.50) from an excellent dessert selection. With a delicious bottle of Willunga 100 Shiraz Viognier 2007 (€30), our bill was €76.70, without service. "Sorry about the mix-up," said our 'friend', patting my arm as we left. I rest my case.
The next day, I read of an irate wealthy diner breaking a waiter's fingers in New York for bad service.
Cinnamon,
83-87 Main Road,
Ranelagh,
Dublin 6.
Tel: (01) 901-3020
www.lucindaosullivan.com
Originally published in