Two Industrious Self Starters -A Soapmaker & Linen Producer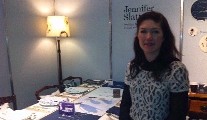 Monday 06 February 2012
Lucinda O'Sullivan meets two self starters both inspired by the past and yet looking very much to the future
I never cease to be in awe of the number of brilliant people who have the 'get up and go' to start their own business. As seen at the recent Showcase Ireland in the RDS, these folk come from all walks of life, but they have in common a determination to make a living for themselves and their families rather than sit on the dole queue. Their glass is half full, not half empty; they have no doubt that they are going to succeed.
Donagh Quigley of The Handmade Soap Company, which was set up in 2009, is a perfect example of an entrepreneur with a sense of fun and determination. Donagh comes originally from Newgrange but is, as he says himself, married into Kells, Co Meath.
Donagh's is an extraordinary story. He is a thatcher by trade; in itself this is a rare, skilled and specialised craft.
"I stumbled into it in my early 20s, having been offered a traineeship," says Donagh. "I went out on my own and had a couple of good years, but things started to quieten down a bit and I had to look at doing something else. It was slowing down, the gaps between jobs were longer. People were looking to patch rather than rethatch, and it was just too hard to make a living."
Donagh always wanted to go with setting up a brand, but it had to meet a few criteria. "I had to be able to make it myself and it had to be saleable," he says.
It could have been a few things, he says, but it just so happened that he and his now wife, Gemma, were in Australia and they visited a legendary secondhand book shop called Gordon's in Darwin.
"We picked up a few books on soap, and when we came back to Ireland I resolved to have a go at it. We set up a few pots in the kitchen and it was an absolute disaster, but I enjoyed it. It's a bit like cooking! There's room to put your own stamp on it, there's a little bit of chemistry, there are a few rules you have to follow, a bit like baking.
"I knew the writing was on the wall with the thatching, so I used the money from my last thatching job to go over to the UK where I did a couple of soapmaking courses with renowned soapmakers, including Melinda Coss."
Quigley is nothing if not a man of action: that year he also sailed from Drogheda to Boston, America, on a boat built by a friend.
"We sailed all the way over the North Atlantic. When we got there I tracked down this other well-known soapmaker, Marla Bosworth of the Back Porch Soap Company.
"I came back to Ireland in August 2009 and, with no new thatching jobs coming up, I just started making soap. We got the actual techniques of the soap-making going, and I had to design a brand. Our first market venture was at the Seamus Ennis market in north Co Dublin. It was Christmas 2009 and we just didn't know what to expect, but we sold out very, very quickly, so I had an inkling that we were on to something."
Donagh says he watches the look in people's eye when they see the soap, because "you either get it or you don't, and if you get it you love it".
His design and branding is influenced by a lot of early Twenties Americana.
"There is a lot of deliberate design stuff going on there, but basically I was trying to evoke emotion, kind of throwing a comfort blanket around you, sort of Little House on the Prairie meets Paris in the north of Dublin, so it is all actually quite deliberate. I think we've nailed it."
That brought them to Showcase Ireland two years ago.
"We had a little market stand and a few baskets of soap laid out. Gemma and I hadn't a clue what to expect. The very first day we got a big order from retailer Carraig Donn, which ordered thousands of bars of soap. For the next six weeks we were in the kitchen every day until 2am. We could only make 60 bars at a time, and we had to give them 2,500 bars of soap!
"With only two pots in the kitchen, I reckoned that if this was going to go anywhere I had to upscale. We had to get a premises. Coca Cola in Drogheda closed down and I got a couple of vats from a chap who lived in Virginia and who had bought all the Coca Cola vats. We got them on legs and started making soap out of these, still the two of us."
The soaps took off, and the company now produces wonderful combinations such as cedarwood and lemongrass, goat's milk, honey and beeswax, grapefruit and Irish moss, and orange and frankincense, not to mention good old carbolic and shaving soaps.
"We now make creams also, but finance has determined our growth. As our turnover grows, we reinvest the surplus.
"The moisturising and hand creams are going really, really well. We also diversified into liquid soaps, shower gels, bubble baths and body lotions. The shaving kits are going down a storm in the US.
"We basically built a brand from the ground up; we are in a high-growth stage, very happy to be there, consolidating. Things are going well. There was never a better time to start up a business. They say there is always a recession in start-up land, it's always going to be tough in your first two or three years whether the economy is in an up or a down cycle.
www.thehandmadesoap company.ie
TEXTILE designer Jennifer Slattery is from Ashbourne, Co Meath, but based in Dublin where her studio is in the Malthouse Design Centre on the North Circular Road. Jennifer is also inspired by the past in her production of wonderful nostalgic but contemporary textiles for the home. Her latest collection, 'An Imperfect World', is inspired by her grandmother's house, where Jennifer now lives as the fourth generation to inhabit it.
She has a love of the trinkets, ornaments and objects of past generations, worthless in monetary terms, but precious and cherished heirlooms.
Jennifer's wonderful crisp Irish linens are embroidered or printed with 'Granny's China', outlines of silver spoons and 'King's Pattern' cutlery, and 'Aunt Nora's' plates.
Jennifer, 32, studied graphic design in Letterkenny and graduated in 2002. She worked for five years but went back to college in 2007, to the National College of Art and Design (NCAD), to study textiles, specialising in embroidery.
"I graduated in 2010. I already had the graphic design and computer skills, so it was the embroidery that was the challenge. My graduate show went very well and most of my pieces sold. I actually did table linen as a side project, and people were saying to me, 'Can you do more?' so that set me thinking maybe of setting up. I got a bursary from NCAD and went to London for four months. While there, I decided to come back and set up.
"I am always researching and going to different shows, but I suppose I had already worked for five years as a graphic designer and the feeling was that you would have to go in at the bottom if you wanted to go into any textile job. I wanted the creative freedom of doing my own thing."
Jennifer also makes throws and fabrics -- some inspired by the herbarium in the Botanic Gardens -- which she has used to upholster interesting chairs and sofas. She also takes commissions.
http://jenniferslatterytextiles.com
So, get thinking folks. What hidden skills are you not using? What magic can you create?
Originally published in