Born of the Earth but Heavenly in Inspiration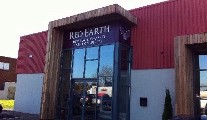 Tuesday 31 January 2012
The Collins family have redeveloped an ugly industrial site into a gorgeous lifestyle shop, says Lucinda O'Sullivan
Tony and Jackie Collins were not deterred in any way by the times we are in when they developed and opened their big new Red Earth Lifestyle Store & Cafe in Mullingar Industrial Park at the end of 2011. But then Tony and Jackie were always positive in their attitude and what they had to offer people.
They have developed what was originally a none-too-pretty industrial building into a smart lifestyle store and restaurant stocking a range of gifts, clothes, jewellery, glassware, mirrors, throws, cushions, pottery, preserves, wines, and small furniture.
The couple have been involved in the giftware business for many years, owning Genesis Fine Arts and Mindy Browne Interiors.
"We have had this building for a long time. It was originally an engineering company, the first IDA building built in Mullingar 35 years ago, and I actually worked here 26 years ago when I started to work in my first job as an apprentice tool maker," says Tony.
"We started our first business, Genesis, in the garage beside the house, producing cold cast bronze material figurines across a variety of themes whose inspiration was derived from the area around the lakelands in Co Westmeath. Jackie and I worked at it day and night trying to get it going, and after three years we were employing 17 people."
Since then they have, of course, vastly increased their range of products.
"Genesis took off, and we moved to a new premises on the Dublin Road which we shared with Mullingar Pewter."
That soon got too small for them, so they moved their production to a factory in Mullingar town and converted their part of the premises on the Dublin Road into a shop, which will be familiar to many people travelling the motorway to the West.
"We decided last year to expand the business and we spent a lot of money on redeveloping this building here. We didn't want just an ordinary gift shop, so we looked around other places to see what other people were doing.
"Obviously a big emphasis was going to be on the food because food was going to be a big attraction to get people into the shop, and it worked extremely well on the Dublin Road even though it was a very small coffee shop."
They started on developing the building last March.
"The concept was really my 23-year-old daughter Lisa's; she had just finished her Masters in marketing, with an emphasis on retail. She was very forceful in her thoughts as to the kind of shop she wanted it to be, and the kind of shop she thought we should do. I suppose you can see that in the decor, but she has also been working alongside us for years and years and listening to us talking about this kind of business. So, she was the one pushing us to do it.
"At the time we were just going to do a small job here and renovate the building a bit. She said, 'No, Dad, if you are going to do it you have to do it right.' As I say, she did her thesis in retail and has seen a lot going around, and would be familiar with places like Anthropologie, the American and UK chain, and it would have been based on the sort of thing it is doing."
Tony says that people have told him that they were brave to do this but, as he says, they said the same to him 26 years ago when they started up Genesis "when actually, Jackie and I were both unemployed at that time". They ended up buying his former place of employment six years ago, the former engineering premises, but were just using it for storage.
Destination shopping is very popular now, whether it be a local village, a shopping centre, or a big lifestyle store. People want to be able to drive up virtually to the door, park and shop without any hassle. This really is what has been hitting the high streets of towns in the UK and Ireland.
Tony points out that at Red Earth they can drive up to the door, walk in and switch off. "They could be anywhere. There is a feelgood factor here, a positive aura, friendly staff." Many of their staff are very young and smiling.
"I hear lots of people give out about young people but these kids are super, learning very fast, and are all dying to work. Some of them have worked in coffee shops, but some of them are college graduates who couldn't get work in their field. We also have a lot of university students working with us for the weekend -- their parents are so happy that they are working and, in turn, they come in as customers and enjoy the food and the ambiance."
Bright and bubbly Lisa says she grew up in the family business, listening to her parents talking about it. She certainly seems to have a wise head on young shoulders.
"When I first started out I did journalism and media studies, and then I took a year out. I managed the Genesis and Mindy Browne store in Arnotts, where I suppose I got a flair for retail. I then went on and did a Masters in marketing," says Lisa.
"I felt Mullingar and the Midlands needed something like this, so I came on board and helped Jackie and Tony to develop the concept of Red Earth.
The name came from the earth on which the building stands. We were here one day looking at it and it was a horrible green building. One of the lads here with me turned around and said it's like red earth -- infertile land -- there is nothing much you can do with it. We decided we were going to make something beautiful out of something ugly, and create a whole new lifestyle brand."
Lisa came up with the idea of the logo thinking of the metamorphosis of a beautiful butterfly from a not-too-attractive caterpillar.
Whilst we didn't eat there, the self-service restaurant looks very nice, comfortable and stylish. The chef is Stephen Lenehan. It has a wok station and a pizza oven -- it even does a "breakfast pizza", Tony laughs. And the Collins's have a novel idea in that on Friday and Saturday nights, for two hours, after the shop and restaurant as such are closed, up to 9pm they offer a takeaway menu.
"We find in Mullingar a lot of people like takeouts of nice classic food. We set up a counter at the front door where people collect their orders. Our aim is to provide good wholesome food. Quiches, lasagnes, Galway Bay seafood chowder, beef bourguignon..."
From humble beginnings in a garage at the side of their house, the Collins's have given jobs to 45 people.
Originally published in