Restaurant Review - Pop Up Pyg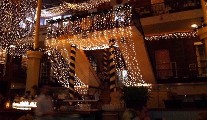 Friday 27 January 2012
Sex and the City seemed alive and well at Pop Up Pyg in the Powerscourt Townhouse Centre as I observed a pair of Carrie Bradshaw lookalikes engrossed in themselves and one or 10 cosmopolitans each.
There was nothing for it but for Mary and I to enter into the spirit with a couple of caipirinhas (€8.50 each) as we surveyed the cool crowd lounging on the sofas in the middle of the floor. Perhaps, as we dash through some of our finest buildings on a day-to day basis, it is easy to take their spectacular Georgian beauty for granted. Sitting in the middle of the open square, looking up at the great height of the building, amid the lights and the peals of laughter and jollity emanating through the arches from the Pyg Bar, you are hit by an idea of what this place must have been like in the 1800s when the 3rd Viscount and Viscountess, Lord Richard and Lady Amelia, dazzled their guests with their particular sex-and-the-city entertainment. Does anything ever really change?
Jay Bourke is a person who has added greatly to the style and joie de vivre of Dublin and Cork over the past few years; he appreciates the finer beauties of old buildings, having taken on and restored the magnificent Bellinter House in Co Meath. Throughout the past decade or so he has been involved in Eden Restaurant in Temple Bar, CafeBarDeli, and Shebeen Chic, among others. Like many another, with the recession, not everything has gone well, but when the going gets tough, the tough get going, and Bourke is always on the nose of trends. He has created the Pop Up Pyg, running only on Thursday, Friday and Saturday nights, at what is the Pygmalion Cafe during the day.
The restaurant is corralled off, as it were, so you have to wait to be seated, which makes you feel you are definitely going out! On one side of the square is an open kitchen, while the bar is on the other. The rest is filled in with banquette seating and central sofas with low tables. The menu is basically tapas in ethos, but they are not exactly small portions.
The majority of the dishes come in two sizes at €8/€12 -- you can even get a carved 7oz rib-eye steak for €12. The only thing that is more expensive is the 14oz steak, at €18, which should keep the greatest of trenchermen happy, or you could share it.
Dishes included spicy chorizo and tomato stew with roasted bell peppers, button mushrooms and fresh herbs, topped with patatas bravas and sour cream, served with bread. Portuguese pork trinchado has marinated cubes of pork, slow-cooked with mild chillies, onions, garlic, fresh parsley, red wine and brandy; it's served with bread for dunking. We kicked off by sharing prawns pil pil (€6.50) and a 'small' antipasti (€7). The prawns were firm and sizzling in a rustic terracotta dish with garlic, chilli and lemon oil, served with bread, and very tasty. The antipasti had serrano ham, salami, goat's cheese, a crotin of mozzarella, Taleggio cheese, sun-dried tomatoes, and marinated olives. The 'smaller' sizes of lamb meatballs and Catalan tuna and calamari, both at €8, were more than ample. The meatballs proved a very tasty dish with pine nuts, maple syrup and roasted peppers in a tomato sauce, which was topped with rocket and Parmesan shavings, while the the tuna consisted of two big pan-seared chunks, which were bathed in caper, olive, garlic and lemon sauce and served with squid rings, green beans, and sauteed potatoes.
We followed up with a scrumptious chocolate oblivion with ice cream, and a mojito cheesecake with tequila and lime syrup, at €3.50 each: cracking value.
This is a great place to pop in and share a couple of plates and a few glasses of wine at a reasonable price. We lingered, people-watched, gossiped, and thoroughly 'walked the course', bringing our bill with a bottle of Pinot Grigio (€24), two espressos (€2.40 each) and optional service, to €90.50.
L