Our Latest Great Place to Eat - Bedlam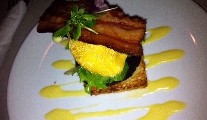 Thursday 19 January 2012

Bedlam is the name of May Frisby's fabulous 'happening' in Castle Market. I guess if I said her restaurant was bedlam she mightn't be too happy but, as she has named it so herself, let me say it is organised buzzy bedlam with rather good food and a fun vibrant atmosphere. Maybe in choosing its 'handle' she was thinking of her busy life working 80-100 hours a week between it and her ever popular Pasta Fresca on Chatham Street, which she started 25 years ago – she is one of the hardest working and best known people on the Irish restaurant scene. With Bedlam she has created a really good intimate funky fun feel with animal print walls, non matching chairs and tables, a touch of the over the top, and there you have it – Bedlam!

What will make this place hum is that prices are reasonable for good food, described as Meditteranean meets New York or, to my mind, 'New Irish' – from all over the place - bedlam! My dining companion was John Healy of The Restaurant TV Show who sure knows how to run a restaurant with style. "If a restaurant's terrine is good – the food will be good", he announced, followed with a quick request to taste their wild rabbit terrine, of which they obligingly produced a tranch without charge! "It's delicious", he extolled, as it disappeared down the red lane! It was moist and sublime, sprinkled with pea shoots, broad beans, mint salad and white Balsamic, but I wouldn't try that tack if I were you, for only John's panache would carry that off – whatever about tasting the wine! He munched and raved away whilst I had a glass of Prosecco before choosing a punchy threesome of baby squid which I loved loved loved! These chunky little bedfellows, sitting on a pastry base, were stuffed with good robust chorizo and feta cheese, which melted and added a silky moistness. John's starter per se was bruschetta topped with a copious amount of decent king prawns and avocado. At this point we were joined by my friends Mary and Miko who just happened to be in town shopping on a Thursday evening, so we had the benefit of seeing their food too! Mary did a reprise with the rabbit terrine (€8) and Miko had a mini tower of crispy egg on black pudding napped with Hollandaise and crispy maple bacon.

Mains start at €14 and are generally under €20 apart from the 10 oz rump steak at €26. A traditional Irish lamb pie comes with creamy mash whilst tempura of lemon sole is paired with remoulade, pea puree, and thick cut chips. I had a fine tranch of hake sitting on a rondelle of celeriac, atop a fondant potato, with split peas and baby spinach – really good value and I liked the interesting elements – it felt like a much more expensive dish. Rotisserie cooking is one of the specialities here with the options being baby chicken or pork loin. John opted for the pork which saw a good tranch, standing rack style, with a crispy pork belly square, a brace of glazed pak choy, crushed sweet potato, and a rich jus. Mary's risotto had wild mushrooms with Parmesan and sage butter which she loved whilst Miko had roast fillet of cod on a fresh summery cassoulet of peas and carrots, bacon lardons, in a saffron broth and topped with a dill crème fraiche.

John had a raspberry and mango mousse a yummy tiered affair.

It's the sort of bedlam I like. A sassy city spot in the centre of the action and good too for lunch and weekend brunch.