Restaurant Review - San Lorenzo's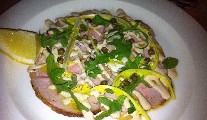 Tuesday 17 January 2012
Temple Garner is the Godfather of New York style Modern Italian food! Having been originally at Il Primo, and the defunct Mermaid Café on Dame Street, Garner opened the New York style Modern Italian cuisine restaurant Town Bar & Grill on Kildare Street with Ronan Ryan. When problems arose in Town Bar & Grill, Garner moved on to Dillinger's in Ranelagh. Temple has now opened San Lorenzo's,, a new 'Temple' to New York style Italian dining, on South Great George's Street, closer to his original stamping ground. This area is where it is at with in-town hip dining, it has become a little 'Quarter' all of its own. Garner has with him two very polished men of the restaurant industry out front – Gerry Crossan as General Manager, and Sommelier, Sean Gargano, both of whom bring great personality to the floor.
Wheeling up in a taxi on the opening Saturday night of San Lorenzo's, we alighted midst streams of long legged long haired girls in mini skirts and cool guys out and about town. There was no denying the buzz and it was great to see. Many of the restaurants seemed jointed.
The exterior of San Lorenzo's didn't give any indication of the stark modernism that was to greet us inside. Batman meets, Shanghai steamer, almost a theatrical set. It is a long narrow space with very high ceilings, and dangling Tiffany café shades. One side of the room had the walls covered with 8' 4's of plywood, whilst the other side is a deep red. The 'stage' where Temple and team cook up their offerings under spotlights is visible through a big ope where you are not sure if the performer is going to sing, say Mass, or take part in Masterchef. Happenings in the kitchen can also be looked down on through a big plate glass window from the communal first floor loos! On either side of the restaurant are two rows of curved back 2 by 1 slat 'park' benches – the sort of thing you might see on deck. As Gerry and crew moved up and down the centre aisle it feels a bit like a train carriage, each group in their carriage for four, with some unlikely looking people having to share tables. You also got the notion that you were not really part of the room, as you have to turn around to see behind you, rather than being on a long banquette and seeing everything. However, it was early days and time will tell as to the popularity of the benches.
The food was ace. Mary had a brace of big pan fried fresh sardines (€9) wrapped in prosciutto lavishly dressed with diced tomato, green olives, rosemary and oil. I had an Italian classic dish of Vitello Tonnato (€8.50), the combination of veal smothered in tuna fish mayo which is a hugely popular summer salad in Italy. Garner's interpretation was an ace contemporary version having a fine tranch of veal sprinkled elegantly with a light tuna mayonnaise, capers and rocket. Mains €22/€27 included whole grilled baby turbot with brown shrimp, lemon and capers, samphire and white turnip, whilst chargrilled milk fed veal chop was paired with truffled soft polenta and porcini mushrooms. Mary had divine scallops 'al forno' (€22) in a brace of shells, grilled and bubbling with crab pepperonata, basil and Parmesan. I had an equally good roast long rack of lamb (€24) three cutlets, sitting on spaghetti squash, with salsa verde, and a little hot pot of deep intense shoulder cooked with cider.
We finished up by sharing a luscious dark chocolate and Frangelico pot (€6) and a cheese plate (€9) sporting St Tola, Crozier Blue, and Hegarty's cheddar. Sean Gargano's wine list is excellent and we had a cracking bottle of Godello 'Bolo" Rafael Palacios (€33) from 'Green' Spain bringing our bill with optional service to €123.50. There is a 2/3 course Early Bird at €19.50/€24.50. Lunch is available Thursday to Sunday when there is also an Italian Brunch.
Book your passage on the benches dedicated to the Patron Saint of chefs …. San Lorenzo's is hot hot hot.
San Lorenzo's,
73 South Great George's Street,
Dublin. 2.
Tel: (01) 478-9383
FIRST PUBLISHED IN THE SUNDAY INDEPENDENT ON 15TH JANUARY, 2011