SURFING AND FOOD IN COUNTY CLARE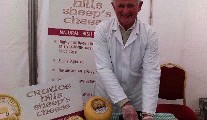 Wednesday 06 July 2011
Lisdoonvarna is not just for matchmaking, surfing and taking the waters, for nowadays you can also eat rather well, as we discovered on a recent visit to the area for the Burren Slow Food Festival. They weren't blessed with the weather on the day, which chucked it down, but they were blessed with the enthusiasm of the wide variety of artisan producers, local chefs, including Aidan McGrath of the Wild Honey Inn, and enthusiastic foodies.
Chairperson of the Slow Food Clare convivium is Birgitta Hedin-Curtin of Burren Smokehouse, who smoked the organic Clare Island salmon for the Queen's banquet at the request of Ross Lewis of Chapter One. All very prestigious indeed and they will now be smoking salmon for Fortnum & Mason's own label which will be on the shelves in Picadilly in January 2012. Birgitta is also in negotiation with Dean & DeLuca in New York. A native Sweden Birgitta left home in the early 80's to see the world. "I wanted to see the Celtic countries first, the west coast, the Atlantic and to hear Celtic music." She heard more than Celtic music in Clare and got no further because she met her future husband, Peter Curtin, a third generation publican of the Roadside Tavern in Lisdoonvarna. She is a marine biologist and in the late 80's they wanted to do something together, hence the Burren Smokehouse. 'We went through the cottage industry phases with initially having a garden shed and hand slicing it in the kitchen but as the business progressed we moved on to a full commercial smokehouse. Our method of smoking is unique to us and patented, and our ovens are built to our specifications in Limerick. With 17 people working full and partime on their team they smoke 100% Irish products only – Donegal Silver farmed salmon and Clare Island organic farmed salmon. This year, the first time since 2006, they have also had some Wild Salmon which has been culled from rivers under the fisheries management scheme. "Business has been steady, I have done a lot of marketing, but we wouldn't survive without Food Tourists - we get about 25,000 visitors a year - it is because of the Burren we can survive along with our mail order sales." If Her Majesty is crouched over her laptop right now……here you are Ma'am www.burrensmokehouse.ie
Eileen Talty of Spanish Point Sea Vegetables told me that whilst they have been operating about a year the Talty family have harvested sea vegetables through four generations. "We live just across the road, right on the sea, and sea vegetables are more nutritional than land vegetables." They are selling Carrageen which is great for chest colds, as well as Dulse and Irish Nori Laver flakes, and Wakame which provides rich sources of minerals and iodine. Wakame is traditionally used in soups and seafood chowders as well as sauces and salads. A good one to try is the Irish Sea Salad as it has a mix of Dillisk, Sugar Kelp, Nori, Sea Lettuce and Wakame. I was particularly interested in the Sugar Kelp as I saw Gordon Ramsay talking to the ex Prime Minister of Japan on TV and a group of elders, all of whom were sporting great heads of black hair in their 80's and talking of the long lives and slow aging process of people in Okinawa in Japan – "its all down to the kelp" – they said. www.spanishpointseaveg.ie
Sean Fitzgerald of Cratloe Hills Sheeps Cheese was the first sheeps cheese producer in Ireland starting in 1986 to develop his cheese and having it on the market since 1989. At that time they found that people couldn't handle the concept of getting cheese from sheep but "gradually, with people becoming more health conscious, with allergies, or off dairy products, they discovered they could eat our cheese because it was made from pasteurised sheeps milk." "We developed our cheese and we developed a niche - you won't find our recipe anywhere, it has come of trial and error, from going out and talking to people, getting feedback, and in making the cheese we incorporate all that feedback into our recipe. We are going in at the top of the market with a quality product but high priced and we make no apologies for that. Ours is a little handmade cheese, we milk sheep and make the cheese on our farm with no additives or anything like that. We only make our cheese from 150 grass fed ewes from March to September, that is the natural lactation and that is it then." They have a mild and a mature cheese, the latter which will is ready in September or October. "It has more flavour because it has time to develop. We look after and turn the cheese for 6/8 months, we taste it before we let it out, and when we are happy that it is ready to go we let it out." Tel: (061) 357185 cratloehillscheese@eircom.net
Janice James came to live in Ballyvaughan from Boston with her husband Gary ten years ago on what she describes as a mid life adventure. She makes very pretty goats milk soap, embossed with Celtic designs and wrapped in organza bags, which she had been doing for a couple of years whilst still in Boston where she was a Director of Marketing with a Theatre Company. Her great grandmother was an O'Brien and she says they came because they love the Burren "there are no extremes of weather here, English is spoken, and there are no snakes!" "They are a gourmet product and it is really a cottage industry but they are wonderful for the skin as the pH is the same as your own skin so very moisturising. Tel: (065) 707-7980 celticjanis@eircom.net
Gillian O'Leary is a delightful girl who makes handmade chocolates in Ennis under the clever name Chocolate Here. She is a chocolate fanatic and blogs on her website www.chocolatehere.ie A software engineer by profession she said "last year I was here at the Slow Food Festival as a customer, this year I am back as a trader." She started creating beautiful chocolate bars with a distinctive creative image and began trading at Ennistymon Farmer's Market and then the Ennis Market. Now she is also at the Limerick Milk Market.
Having departed Lisdoonvarna we headed to Lahinch where the surfers were out in force. Here we met surfing instructor Richie McLoughlin of Ben's Surf Clinic. Richie is from Carlow but there was an influence of water sports from his parents and his mum did waterskiing. Richie did Ocean Science as a degree and came to Lahinch in 1998. He has seen huge growth on the surfing scene. "When I first came to Lahinch there were no schools and now there are four. Also when I started here you would know the name of every surfer but now in summer there might be 500 people in the bay. Experienced surfers tend to use Lahinch as a base, the epicentre of surfing, but they work out along the coast as there are lots of great places to surf. 2 hour lessons cost about €35. www.benssurfclinic.com
Naturally with so many coming to surf they have to have accommodation, so there has been a great spin-off there. Duncan Cusack and Carol Dollery, who are getting married next January, realised and utilised the potential here by opening the West Coast Lodge, a hostel where most of their customers are activity based – surfing, climbing, scuba, hiking walking, wind surfing. Our customers are very much "the young at heart." Duncan says. Between them they had tremendous 5 Star hotel experience having worked in Sheen Falls Lodge, The Killarney Park, The Clarence and the Lodge at Doonbeg, where Carol is still the pastry chef. The hostel is known locally as "the Poshtel" because they provide all the little comforts such as iPod stations, Nintendo wii, goose down duvets, Egyptian cotton sheets, complimentary WIFI, power showers, 42" flat screen in the lounge, a book exchange and library reading area, a fully fitted kitchen for guest use, a barbecue and terrace on the roof overlooking the beach and the Cliffs of Moher, The idea came to them on their travels in South East Asia and South America where they found "the level of hostel accommodation to be far above what we would have expected, and I enjoyed the entire social experience provided, especially when they were geared for the activity market. Continental breakfast is included in their rate with juices, fresh fruit, cheese, yogurts, cereals, a selection of teas, freshly brewed coffee and toast – and free tea and coffee all day. They have double/triple rooms, family rooms holding up to 7, plus 7, 12, and 14 person dorms! B & B rate in double and triple rooms is €25 pp, and Dorms and Group Rooms from €18 pp. www.lahinchaccommodation.com
Now these folks personify what I call enterprise and positive thinking all round and there are lots more for you discover when travelling around the area.
THIS ARTICLE WAS FIRST PUBLISHED IN THE SUNDAY INDEPENDENT ON JULY 3 2011.