CHRISTMAS MARKETS COUNTRYWIDE 2010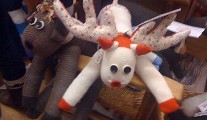 Wednesday 08 December 2010
Christmas Markets are the buzz this year and there are lots around the country be they one day events or weekly in the lead up to the big day.
In Dublin there is a new Christmas Market at Fitzwilliam Square this year with over 70 stalls lit up by more than 1000 lights. This will run every day until the 23rd December and features traditional Christmas foods as well as cereamics, candles, wood carvings, crafts and gifts. They will have mulled wine, seasonal music and carol singing. www.christmasmarket.com What a great location. Also in central Dublin this time in D1 there is the Docklands Christmas Market also running up to 23rd December. This has been brought to Dublin by a German events company and will feature some of Germany's most experienced marketeers. It will play host to almost one hundred German traders, African traders and also homegrown Irish stalls – very important! Irish Farmers Markets have a number of markets located in places in and around Dublin including such diverse locations as Dublin Zoo and Leopardstown Race Course, Howth and Lucan, as well as at Tinnakilly House in Rathnew, Co. Wicklow Many of the markets are purely weekend events but www.irishfarmersmarkets.ie IFM have also recently launched Dublin City Markets www.dublincitymarkets.com and have a midweek market running at the old Harcourt Station on Harcourt Street. Dublin Zoo market would make a great family day out for the Zoo organisers are planning special events over each weekend. Tinakilly House will have both indoor and outdoor stalls and along with the wonderful Victorian location there will be live music, mulled wine and more. <ep>
The crypt of Christ Church Cathedral makes an interesting and atmospheric location for a Christmas Market being held on Saturdays in December up to the 18th. Entry to the Cathedral and Christmas Market is €6 per adult. There is also a Santa's Grotto with gift, storytelling and carol singing, with tickets priced at €15 for 1 adult and 1 child, additional adults €6. Family ticket 2 adults and up to 3 children is €30. Out at the Knox Hall in Monkstown The Lady Artisans, a group of 25 ladies, have banded together with a Christmas Fair on Saturdays up to the 18th December. They will feature Emer O'Sullivan ceramics, Les Creations de Sandrine, Usbourne Books, Bechichi Jewellery and much much more. <ep>
The Slaney Country Market in Bunclody, Co. Wexford, has just moved into its new home, a beautiful Georgian house on the Market Square in Bunclody, known locally as "The Barracks." They are decked out in all their finery for Christmas with wreaths, garlands, homemade wooden, knitted, and baked decoration. They have 25 producers every week who come up with a fantastic array of produce including breads, Italian and Irish, gluten free cakes, ginger, lemon drizzle, and so on. If they don't have it they will make it for the following week. They have scarves and fantastic knitted items, cushions, flowers, plants, seasonal vegetables straight from the fields of Kildavin, cheese makers, print makers, artists, crochet makers, quilters. In fact from the market sewing classes have evolved and take place every Monday in Congeal. They have a communal tea and coffee table where you can sit down and enjoy a tasting plate of market produce, have a natter, and all for €2.
Today at the Delta Centre at Strawhall in Carlow there is a Christmas Craft Fair with they say a huge range of traditional gifts, decorations, folk craft and more. The Delta Centre provides training, residential, respite, day and multi-sensory services for adults with learning disabilities. Next weekend on Saturday 11th there is a Christmas Fair at Huntington Castle at Clonegal whilst on Sunday the 12th at Duckett's Grove there is a Christmas Craft and Food Fair featuring Carlow producers displaying woodturning, pottery, enamels, art, embroider, handknitting and jeweller. There will also be butter making, basket making and a blacksmith.
Kilkenny this year sees a new 10-day Christmas Market on the Parade Plaza from the 10th to the 20th December which will be "bursting with food stalls and stocking fillers" for all of the family. Also running at the moment up to January 9 is Kilkenny on Ice at Cillin Hill so you can try your hand, or should I say your foot, at swirling around the ice. Adult tickets are €15, U'12's €13 and family tickets €50 (2 Adults 2 Kids, or 1 Adult 3 kids. Must be over 5 years old to skate and U 12's must be accompanied by an adult. www.kilkennyonice.com
In Waterford at John Roberts Square and on Broad Street the Christmas Market will be running from Wednesday 15th December up to Christmas Eve. It has been going for six years and will be offering all sorts of delicious crepes, local cheeses, pates and foods from around the world. It will also have lots of ideas for presents and decorations. Also running from now up to the 23rd December at the Garter Lane Arts Centre is the Waterford Homecrafts Christmas Fair. All items on sale are handmade and hand painted locally so will be unique gifts such as hand painted scarves and handbags, hand turned wood pieces, slate mirrors, ceramics, soaps and handcreams, candles, glass art, paintings and more. Another Waterford event you might like to put in your diary is the Carol Service at Christ Church Cathedral on Sunday 19th December at 4 pm featuring the choir of Christ Church and the City of Waterford Brass performing favourite carols – it is free and early arrival is advised. Tel: 051 858 958
Galway City has also launched its first Continental Christmas Market which runs up to 19th December in Eyre Square. The market features traditional Bavarian and Irish stalls selling goods for all the family. There are seventy wooden chalets retailing food, beverages and goods from all over Europe with over a third of the chalets occupied by local traders. You will be able to buy wines from the Mosel, German pancakes, French patisseries, and there religious relics plaques and crafts from Sister Tatiana from Russia as well as Peruvian clothing and Aztec jewellery.
Out at The Lodge at Doonbeg Golf Club, following on their highly successful inaugural Continental style Christmas Market last year, once again the courtyard at Doonbeg will be transformed into an old word town square filled with stalls stock with everything from fine wares, food items, to handmade crafts. You can wander through 60 stalls nibbling away amidst glorious smells of gingerbread and roasting meats from the outdoor café. They have events scheduled throughout the day to keep the interest up – Santa will arrive at noon, followed by a children's puppet show which is repeated again at 2.30pm. There is also a live Nativity show at 1.30pm and 4.30pm.
CHECK DATES - THIS ARTICLE WAS FIRST PUBLISHED IN THE SUNDAY INDEPENDENT ON SUNDAY, DECEMBER 5, 2010.