Locks Brasserie - Restaurant Review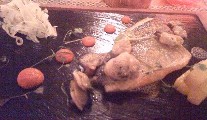 Monday 22 November 2010
"11 out of 10" said a departing diner to the Maitre d' in the new Locks Brasserie overlooking the Grand Canal at Portobello and its gliding swans. He was right and, from the cross table conversation he had been enjoying with another solo gentleman, it appeared he was a seasoned discerning diner. In fact, quite oblivious to those around them, they had conducted a vehement assessments of restaurants in Dublin. "The arrogance of that fellow", he had said. "Yes, I had the same treatment." "Was it the dark one with the glasses"? "Yes, and the smaller fellow was just as bad - the pure arrogance." One long standing French restaurant was torn apart. Our lovely waitress was just as bemused and amused as ourselves, as they competed for having sat around the best tables in the country. Anyway, they were both delighted with Locks in its new incarnation.
One of the nicest rooms in the country, Locks was very successful for over 20 years under its initial ownership. It re-opened in 2007 but it ran into trouble with the recession, and prices that were no longer in tune with the times, eventually closing. Happily, it has been reinvented by Sebastien Masi and Kirsten Batt, who run the superb upmarket Pearl Brasserie in Upper Merrion Street. With their new venture Masi and Batt have hit the nail smack on the head with a very reasonably priced, well thought out, menu of delicious classy food in a relaxed friendly atmosphere, with ex Four Seasons/L'Ecrivain chef Rory Carville.
Starters were mainly under a tenner, including white onion soup with fondant potato and smoked bacon foam, chicken and ham hock terrine with celeriac remoulade, apple, and Pommery mustard. Those over the tenner were Monkfish Cheek, with daube of beef, baby cress, and foie gras sauce at €15 which, as the amuse bouche they brought us, was delish! Seared loin of tuna with a tartar of tuna, avocado and pickled cucumber was €12.50 and oysters were 6 x €12/9 x €18. We chose Baby Gem Salad (€7.50) for me, and Squash Risotto (€9) for friend Rena. I loved the wonderfully fresh concoction of Baby Gem leaves tossed with shredded confit of duck in a salty anchovy dressing and croutons, through all of which a perfectly judged poached duck oozed down. This was the icing on the cake. Rena is a discerning risotto head and when it passes muster with her that's something. The dish had a stunning flavour with the combination of risotto rice enhanced by gremolata, sage, and Aged Parmesan.
Mains are €16 - €26 - with the more expensive choices being a rump and breast of lamb combo, rib-eye beef and scallops. Cornfed chicken breast with confit leg, celeriac, and a Bourguignon Sauce is €18, as is panfried hake with aubergine, crab mayo, and a confit tomato dressing. I was sorely tempted by the hake but another favourite in the form of seabream (€21) won out. I was delighted I chose it, as a perfectly cooked chunky fillet of this great fish came beautifully presented on a big rectangular hot slate with saffron potato, shaved fennel, and enhanced with a delicious pickled clam vinaigrette. Rare breed confit of pork belly (€19) for Rena was topped with foaming tortellini and a spiced carrot puree. We had side orders of Gratin Dauphinoise and proper Petit Pois A La Francaise both at €3.50 each. More delicious!
We shared a featherlight perfect cocktail glass of Strawberry Fool (€8.50), its jelly base topped with swansdown-like mereingue, topped vanilla sable and a ball of icecream. I really like light desserts like that.
A great value Seasonal Market 2 Course Treat Menu at €19.50 is served Monday to Thursday 5 pm – 7 pm and Thursday to Sunday from 12 pm to 7 pm – which covers the lunch period on those days.
Our total bill including a bottle of New Zealand One Tree Sauvignon Blanc 2009 (€27) and optional service came to €109.
Locks rocks again. <ep>
Locks Brasserie,
1 Windsor Terrace,
Portobello,
Dublin. 8.
Tel: (01) 420-0555
THIS ARTICLE WAS FIRST PUBLISHED IN THE SUNDAY INDEPENDENT ON SUNDAY, NOVEMBER 21 2010.