Autumn Courses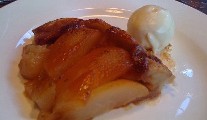 Monday 27 September 2010
Guess what? The traditional Aran sweater, a la Tommy Makem and the Clancy Brothers, is back in high fashion and on the catwalks of Europe. When I say traditional, I mean traditional, and not in the funky funky revival way of 10 or 15 years ago. So girls and boys get out the knitting needles – a perfect occupation whilst watching Eastenders and Law & Order SVU on dark winter evenings. I include boys because men make some of the best knitters – here in Ireland Cyril Cullen is a well known knitwear designer for many many years.
I was passing Cleo, a longstanding shop specialising in Irish clothing in Kildare Street the other evening on the way to review a restaurant, and their window was ablaze with fabulous Aran sweaters in a vibrant Hermes orange colour. I am ashamed to say I cannot sew on a button or, to be more precise, I hate sewing, but a few years ago after an operation when I was sitting around for a few weeks, being the type who has to be doing something all of the time, I made two Aran sweaters for my boys. I was proud as punch, for there is something very satisfying in watching your work grow and achieving a fantastic end product. If you want to learn how to knit or crochet you can do so from sisters Francis Dalton and Teresa McCormac who sell online at www.stitch.ie and are based in Beaumont, Dublin. Francis and Teresa have been knitting since they were 7 years old. They also sell a huge range of wool, patterns, and everything you need. Today they are holding their Autumn/Winter Stitch Tea Party from 1.30pm to 5.30pm with "free knitting lessons, a discount for everyone on the day, and tea and cakes for all." They do ask, if you have any unwanted balls of wool, to bring them along as they donate them to Kaiso Women's Group in Uganda who have recently learned to knit and create their own amazing pieces to sell. Right in Dublin City Centre on the First Floor of the Powerscourt Townhouse Centre on South William Street, there is a lovely spot called This is Knit www.thisisknit.ie run by mother and daughter Jacqui and Lisa Sisk. They also sell everything you could possibly want and they hold classes for knitters of all levels.
This is a particularly good time to learn to do something useful, or increase our knowledge, and there is a complete revivial of interest in traditional skills, crafts, and learning that were neglected over the CT years. We have all come down to earth and are beginning to realise the value of such skills and knowledge. Maybe in these times of recession we will as it were rebirth our butterfly. It is not just knitting you can take up for the autumn and winter, there are classes in almost every subject one can possibly think of. The well known Grafton Academy of Dress Designing www.graftonacademy.com along with their Dress Designing Course run 10 week Dressmaking Courses on Wednesday and Thursday evenings and Saturday mornings. They also run a Millinery Course. At the Bray Institute of Further Education www.bife.ie they also run Dressmaking Courses along with everything else from Bollywood and Latin American Dance to Languages to Early Greek History and Philosophy.
In Cork at the Douglas Community School in Cork www.dcscork.ie the range of courses available too is breathtaking. I was terrible at Irish and Latin in School but I think there was a sort of anti thing then about learning Irish – we thought we were so smart – particularly in Dublin!! Now, I kind of envy people when I hear them speak the cupla focal. At the DCS they have language courses including Irish, Spanish, Italian, French and English classes. The thing about all of these classes at Community schools and so on around the country, is that the fees are tremendous value. At DCS too you can learn modern, traditional, and Christmas flower arranging, as well as how to make beaded jewellery, learn about antiques, car maintenance, photography, knitting, wine appreciation, poultry rearing, First Aid, vegetable growing, understanding your dog, creative writing, plus all sorts of Business Courses, Health & Wellness Courses – the range here is fantastic.

Sticking our fingers in the icing bowl and licking them when Mammy was making the cake is something many of us grew up with and never ever forget. Even better was being allowed to squeeze the icing through the forcing bags to make an edging of shells or trellis patterns. At Newpark Adult Education Centre in Blackrock, Co. Dublin, www.newparknightschool.ie you can put on your 60's style pinny and learn how to master the art of Cake Icing. They run Beginners and Improvers courses on Monday and Wednesday evenings. They also run many of the other courses as mentioned above as well as belly and salsa dancing, dealing with debt, ecological gardening, how to frame your own pictures, public speaking, sign language, recession fashions, upholstery, and Poruguese in case you need it for Quinta de Lago to join our property developers!

In Lucan last March, Joanne O'Neill set up Sew Great www.sewgreat.ie and has seen a huge demand for her sewing courses. Curtain making and soft furnishings are her business along with two Dry Cleaning Shops where they do a huge amount of alterations. She is now running 3 courses – Beginners Sewing, Curtain Making, and Clothes Making. Courses run for 6 weeks and are 21/2 hours long. Oh to be able to make proper curtains – you could set up a business. In Blackrock, Co. Dublin, Maire Morris runs a 10 week Sewing and Dressmaking Course on Wednesday evenings from 7 pm– 9pm. You may be a beginner or you may want to revive your knowledge. She will show you how to use a sewing machine, read and cut patterns, how to measure yourself or somebody else, and you will make an item of clothing during the course. You can contact Maire on 087 139-0215. At Dun Laoghaire College of Further Education www.dlfce.ie amongs many other courses they also do a ten week course on dressmaking and soft furnishings. Another old world beautiful art they teach there is embroidery, which they also do in Rathmines College www.rathminescollege.ie. Embroidered Textile design evening courses are also available over durations of 11 and 22 weeks at the National College of Art & Design in Dublin www.ncad.ie where they also do courses in the age old art of stained glass. Stained glass is a really beautiful art and there is also a course at Hartstown Community School www.hartstown-cep.com and at Scoil Mhuire Community School in Clane www.clanesm.com
Another subject that is highly popular over the past few years is geneaology - family history research. At the Independent Colleges in Dawson Street, Dublin, www.independent.ie they are running a 12 week Diploma Course commencing early October in conjunction with The Association of Professional Genealogists in Ireland. So after that you should be able to work out who you really are!
Whatever course you choose make it something that is therapeutic and relaxing for you - some of the old comforts of yore. None of us needs any more pressure, it has to be something you really enjoy doing and mixing with your fellow students. Painting of course is one of the greatest relaxation therapies of all time and there are a myriad of painting classes available in all of the Colleges around Ireland for both oil, acrylics, and watercolour. Many of you over the years have admired the beautiful illustrations by artist Eorna Walton which accompany my restaurant reviews in Life Magazine each week. Eorna, who has been teaching for twenty years, is at Donnybrook Art School and you couldn't learn from a better teacher – I know! Classes are available both mornings and evenings. The term is 12 weeks and the class duration is two and half hours, during which you paint away in either oils, acrylics, or watercolours, whilst listening to Classical Music – and you do learn – Eorna makes sure you do! Contact Eorna for details on 085 738-3126. Dun Laoghaire Institute of Art Design & Technology www.dliadt.ie which has a fantastic Animation Department also run part time evening and Saturday courses in a range of artistic subjects including Life Painting, Life Drawing, Creative Writing, Digital Photography and on Saturdays they also run Portfolio Preparation courses and Animation Portfolio preparation courses. There is a very nice ethos and feel too about DLIADT and around its campus.
And now to cooking! If you want to improve your cookery skills, or indeed start from scratch, there were never more cookery schools and classes countrywide. Many Adult Education Colleges, IT Colleges, Community Schools and so on run brilliant cookery courses at very good prices over Autumn/Winter and Spring Terms and, in recent years, their repertoires have broadened from traditional Irish cookery into all sorts of interesting cuisines, Indian, Thai, French, Italian and more. Apart from that there are very many full time cookery schools who as well as full time courses offer part time and evening courses. Ballymaloe Cookery School www.cookingisfun.ie do one day and half day courses on all sorts of subjects from One Pot Wonders to Discovering Tapas and Fun. The Cooks Academy in Dun Laoghaire www.cooksacademy.com include a Men Only Workshop and a Mexican a Go Go Demonstration in their repertoire. Clodagh McKenna has a range of courses on www.villageatlyonscookeryschool.com including Pates and Chutneys, and a Pizza Masterclass. The Dublin Cookery School in Blackrock, Co. Dublin, www.dublincookeryschool.ie have wonderful facilities and they too have a myriad of courses from Easy Autumn Entertaining through Cooking for Christmas. Paul Flynn at his Cookery School in Dungarvan www.tannery.ie does courses ranging from The Sunday Roast to Old Fashioned Christmas Baking – now that's a good one.

So there you are – this is but a sample of the very amazing courses you can take that will really make you feel good and positive about what you are doing.
A homemade Aran sweater and a homemade Christmas Cake – you will be a 2010 style Guaranteed Irish Wonderwoman!
www.lucindaosullivan.com
THIS ARTICLE WAS FIRST PUBLISHED IN THE SUNDAY INDEPENDENT ON SEPTEMBER 16, 2010.