Booze Cruise 2010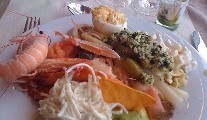 Thursday 09 September 2010
With the kids firmly ensconced at their school desks this is the time when dedicated booze cruisers set sail for La Belle France to stock up the cellars for autumn. There is no doubt but that you save an awful lot of money on wine in France, and the money saved gives you a bit of fun as well by way of the short break. The two ports serviced from Ireland are Roscoff and Cherbourg. Brittany Ferries sail to Roscoff from Ringaskiddy, Co. Cork, on Saturdays, returning the following Friday night, which gives you five nights and six long days on shore. This service runs until the end of October. Irish Ferries also sail to Roscoff until the 23rd September and to Cherbourg all year round two or three times a week with the Oscar Wilde.
On our most recent trip we travelled with Brittany Ferries on the superb Pont Aven, which is a bit like a floating hotel with three dining options, 3 bars, swimming pool, cinema, and a large shop. Indeed, it seemed all of County Cork were on board but we were happy too to see quite a few French people on both legs of the journey. We had a Deluxe cabin on the way out, and a top of the range Commodore cabin with its own balcony on the way back - very spacious with a little divider between the main bedroom area and the lounge area, where there are also two sofa beds. These top of the range cabins are all on Deck 8, close to the shop so very handy for nipping back and forth with the perfume and goodies you have bought, but they get booked up quickly.
They have a wine shop on board with a very helpful sommelier, good prices, and wine and whisky tastings. The food is very good, both in the casual self-service restaurant, La Belle Angele, and in their main restaurant, Le Flora. Again, you need to book your table for Le Flora as soon as you get on board – I always see people being turned away. Le Flora has a regular table d'hote menu with full waiter service at €35 but the real attraction is their tremendous buffet option at €28, which allows you help yourself very liberally, and you are then served your main course at the table. The buffet had two long islands laden with delicious langoustines, king prawns, shrimps, terrines and pates, smoked, fresh and Gravadlax salmon, asparagus, Parma ham, stuffed eggs, ham, cornichons, and multivarious mixed vegetable salads. For mains I had a very nice light Bouillabaisse, whilst Brendan had sirloin steak with pepper sauce, vine tomatoes and Dauphinoise potatoes. We then helped ourselves again to a buffet of luscious desserts and cheeses, and with a bottle of Lalande de Pomerol 2007 Clos de l'Eglise (€22.90) our bill for an excellent reasonable dinner was €78.90.
Driving in France is easy, the roads are long and straight, however, French drivers do nip along at a fair old pace, and there is always some little pesky flea, or ubiquitous white van on your tail nudging you on, so keep to the inside lane until you get confident! Disembarking at Roscoff is particularly easy as you are straight out on the edge of the enchanting small town and off down through the artichoke fields. Morlaix, just 18 miles from Roscoff, is excellent for shopping. A splendid Town Hall and a vast viaduct, which the Germans unsuccessfully tried to bomb during WW2, dominate it. The old cobbled streets and half timbered houses encompass nice little artisan shops. Here too you can also visit the house of Duchesse Anne of Brittany who married three Kings! There are two excellent supermarkets in Morlaix, Geant which is very convenient at St. Martin des Champs near a roundabout on the way to Roscoff, and Leclerc Hypermarche beside McDonald's on the other side of the town with a more than helpful and enthusiastic Wine Manager. There is also now a big Leclerc at St. Pol de Leon right beside Roscoff.
Bonne chance et bon appetit!
THIS ARTICLE WAS FIRST PUBLISHED BY THE SUNDAY INDEPENDENT ON SUNDAY, SEPTEMBER 5, 2010.