Indonesian Spicy Summer Dressing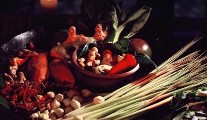 Saturday 26 June 2010
Kevin O'Toole's Indonesian Galangal & Banana Shallot dressing.
Fresh and summery - It's sweet, sour, salty & spicy.
Ingredients;
80g Banana shallots, cut to Brunoise (matchsticks, then cut to fine dice)
25g Red chilies, de-seeded, Brunoise, same size as above
2 cloves garlic, Brunoise
30g galangal, really fresh, Brunoise
140ml rapeseed oil
3 teaspoons sugar
1 teaspoon salt
30ml tamarind water
10ml rice vinegar
500ml extra virgin olive oil, or a combination of your favourite oils, totalling 500ml
80ml rice vinegar
80ml apple cider vinegar

Put 1 -5 in a pan and cook without colour for about 10 mins, you want to take away the raw taste but keep the texture, you do not want mush!
Add 6-9, cook 1 minute till salt and sugar dissolved. Take off heat.
Allow to cool.

What you now have is beautiful with fresh raw salmon, raw trout or whatever fish you like.

To bulk it up and help it coat salad leaves you need oil.
Add your dressing to 10-12. Shake, this is your salad dressing, it is good for about 2 weeks.

In the Chameleon I use Chinese leaves, pak choi, mango, pineapple, toasted peanuts & black sesame seeds & coat it generously with the dressing.
Bon Appetit.