Our Latest Great Place To Eat - Harrow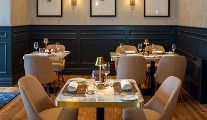 Tuesday 19 September 2023
With a damn good culinary pedigree behind him that includes Adare Manor, the Killarney Park Hotel, and Dublin's Pichet, John O'Leary is at the helm here with business partners Veerpal Yadav and Johnny Buckley behind him.
There are lots of good casual restaurants in Killarney but Harrow fills a gap at the upmarket New York style Brasserie level of high end steaks, shellfish and the like. Service was accomplished and highly professional as we settled into a comfortable corner and from a very extensive list of Classic, Sparkling, Speakeasy and Sweet Or Social cocktails, ordered a Cosmopolitan and a Mimosa. In keeping with its stylish contemporary décor, on our visit starters included lobster bisque served with smoked anchovy toast, as well as pan-fried shallot butter prawns served in herb sourdough croute salad with smokey Marie Rose dressing. Pan fried scallops, cauliflower puree, capers and hazelnuts for Bayveen also had a 'surf and turf' twist with spiced pork croquette and chicken jus. Meanwhile, salt & hay baked celeriac for moi, dressed with truffle dressing, pickled cranberries and toasted pistachios, was also excellent.
While there was a hot fish platter special as well as a 1.3kg Chateaubriand for 2, plus 10oz rib eyes, fillet steaks, and lamb Wellington, I was already sold on my favourite poisson, sole meunière, which proved a fine specimen, cooked to perfection retaining a little bite, with a dense burnt butter sauce thick with roasted almonds and capers. Bayveen had what she said was the best fillet steak ever, and was particularly pleased that nobody winced when she said she wanted it well done!