Our Latest Great Place To Eat - Nan Chinese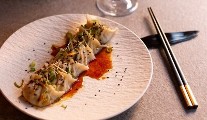 Thursday 30 March 2023
It's often said that Chinese restaurants have a special hard core menu for their Chinese diners rather than the soft soap Westernised version proffered to general diners. Well, judging by the curious faces of my friends as we perused the menu, it seemed we had unknowingly hit pay dirt.
Being in uncertain waters can make one's palate anxious, however, relief and relaxation arrived quickly with the more familiar plates of dumplings – prawn & bamboo shoot and chicken & scallion arrived along also, with a stunning presentation of Lady's Finger Salad with chillis.
Nan is helmed by restaurateurs Ryon Wen and Ian Keegan, the pair behind Little Dumpling, next door, and Hakkahan in Stoneybatter. Wen has blazed a trail across Dublin with a series of other popular restaurants including Bullet Duck & Dumpling in D7 and Kyoto in Dun Laoghaire. Arriving at Nan, Wen told us that with many more Chinese people living here now, there is a big demand for regional Chinese food and he's undoubtedly bringing something different and authentic to the table for western diners as well.