Our Latest Great Place To Stay & Eat - Sheen Falls Lodge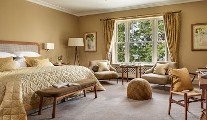 Thursday 23 March 2023
Set on an enormous rugged 300 acre estate steeped in natural beauty, this gorgeous luxury hideaway is the perfect place to let all your troubles melt away.
From the moment you arrive at Sheen Falls, your spirit feels lifted, and certainly their excellent and highly attentive staff are a big part of that. However, the 2AA Rosette restaurant and luxurious plush suites help a lot too!
Given the surrounds, every room is a room with view, and all feature large windows to accommodate the scenery and draw in the light. Your room might be riverside, taking in the gentle babbling of Sheen Salls, or by the bayside with dramatic views out over Kenmare Bay. All of the rooms are chic yet cosy, but if you fancy a touch more opulence, the first step up is their deluxe rooms, averaging 440 square feet and beautifully decked out in gorgeous Irish furniture and furnishings. Kick things up another notch though and book a stay in one of their magnificent suites, featuring a separate private drawing room, and coming in at an impressive 800 square feet. There is a selection of different suites to choose from each with its own special vibe. (Check them out for yourself on their website).
If you'd prefer even more space and solitude, the luxury of Sheen Falls blended with self-catering facilities, they also have a selection of beautiful thatched luxury cottages and bayside villas on site. Some of you might be picturing a little bungalow when I say cottage, but think again. You'll probably never want to leave once you've seen them.