Our Latest Great Place To Eat - The White Horse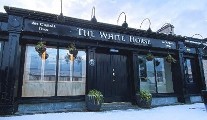 Tuesday 10 May 2022
Back in 2009, when Joe and Maura Carey took the reins, so to speak, they brought The White Horse into the 21st Century with style and taste, offering patrons a delightful country pub feel with an air of modernity both in their cuisine and eclectic drinks selections, not to mention their wonderful spacious beer garden.
Serving delicious fare from Wednsday to Sunday, starters at The White Horse feature the likes of 8 hour slow-cooked pork ribs coated in a homemade BBQ sauce; Vietnamese chicken spring rolls; or crispy Five Miletown goats' cheese bon bons with beetroot relish, a mixed leaf salad, sundried tomatoes and a balsamic dressing. Their West Cork chowder is always a winner, or if you fancy some finger lickin' buffalo chicken wings fried and tossed in Frank's hot sauce, you're in luck. Ribs and wings are also available in main course portions.
Moving on to said mains, you can expect some great meaty options with a selection of burgers, all 100% Cork Beef, ranging from a classic 6oz burger with crispy bacon and emmental cheese to their glorious White Horse Burger which starts off the same, but then add pickled gherkins, homemade chorizo jam, crispy lettuce, beef tomato and a side of crispy onion rings.