Restaurant Review - Table Forty One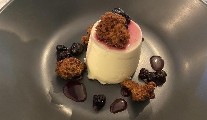 Wednesday 27 April 2022
Whirling up the road from Wexford on a recent Sunday morning, we hit Gorey around lunchtime. Stopping at the traffic lights, before the turn onto Main Street, I said to my friend Mary, "There's a lovely parking spot across the road right outside Table Forty One; will we see if we can get a table?" Although we'd had eggs Benedict and croissants in Kelly's Resort in Rosslare, we reasoned that we might as well finish off what had been a great weekend with a decent lunch.
I knew that Table Forty One had been awarded a Michelin Bib Gourmand in 2021 and with Michelin Bibs being ridiculously rare on this island — unfairly so, in my opinion — I was curious to see what had made this restaurant stand out from the crowd.
It's a one-man show — in the kitchen, anyway — with Andrew Duncan at the stove. His bio tells us that he started in the biz at the age of 16, and he's had considerable experience working his way through Ireland, New Zealand, Canada and the UAE in some of the finest Relais & Châteaux hotels and Michelin Bib Gourmand restaurants, before returning to his home town to open his own restaurant.
It's a small, functional, two-room space atop a steep staircase, and reminded me in some ways of the simple bistros that opened many years ago in my neck of the woods, Dún Laoghaire.
We perched at a small table in the middle of the room and were quickly brought a nice basket with four little bread buns and butter.
lucindaosullivan.com
First Published In The Sunday Independent