Our Latest Great Place To Eat - Kitchen 28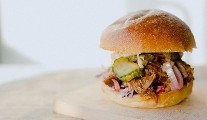 Wednesday 13 April 2022
Besides his delightful deli and cafe, Chef Proprietor Andrew Holmes also operates a superb award-winning bespoke catering service specialising in tailored wedding and event dining solutions, operating also at all kinds of other events, corporate affairs, Christmas parties and social gatherings. Andrew leads a team of top level chefs in preparing the perfect experience for his clients working closely with them to ensure complete satisfaction.
Kitchen 28 open for breakfast and close in the late afternoon having dispensed a plethora of tasty all day bites, salads, gourmet sambos and sweet treats, not to mention their popular afternoon tea. It's an airy contemporary space, with dangling Edison bulbs meeting some decorative green foliage, in keeping with a welcoming outdoor-meets-indoor vibe.
Start the day off right with a delicious K28 breakfast bap, some scrambled eggs with granary batch toast, or maybe their K28 porridge with nutshed chocolate butter, blueberries, pecans and raspberries. Their K28 ultimate breakfast roll is jumbo delight that will impress all the Pat Shortts out there, and their Turkish poached eggs with herbed flatbread, greek yoghurt, harissa butter and toasted seeds are simply irresistible.
The all day bites selection includes the likes of homemade lemon and poppyseed scones with jam, cream and butter, their Hogfather sausage rolls with K28 chilli jam or smoked ham, leek and gruyere cheese jambons. There's great daily soups with brown bread also, not to mention their crunchy flavourful granola pots.