Our Latest Great Place To Eat - The Old Couch Cafe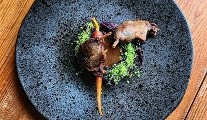 Monday 28 March 2022
Damira and Przemylaw describe themselves as being part Croation, part Polish, and they bring the interesting diverse culinary heritage of their countries to Waterford in a fabulous arty quirky setting. It's a 'two man band' business with Przemek working wonders in the kitchen and Damira charmingly looking after their guests in a room that seats 18 people.
They operate on a rather unusual alternate weekly rota basis serving a 10 course tasting menu from Wednesday to Sunday each evening from 5.30pm – 11pm one week, while the following week they serve dinner Wednesday to Friday, and on that Saturday and Sunday they offer Afternoon Tea from 1pm – 7pm – and no dinner those evenings.
The menus change frequently but think maybe of pickled mackerel to start with West Cork heritage shallot, sea fennel, beetroot, Granny Smith apple, sour cream violetta potato and dill. Woodstown oysters feature with sea buckthorn and green pepper granita and elderflower mignonette, while confit mallard is with red cabbage, black cardamom, chervil, carrot and persimmon jus.