Snubbed again by Michelin Man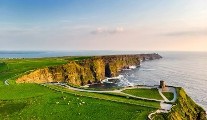 Friday 11 March 2022
Michelin madness came around again last week, though the madness was somewhat more subdued than in the past, with recipient restaurants being announced on Twitter.
The actual awards ceremony had only started in very recent years, as Michelin competed for attention with the World's 50 Best Restaurants. However, the overall presentation, in a dreary west London convention centre, came across as a dull, town-hall sort of affair, with laboured speeches, awkward stuttering interviews, and various invitees posting "I am here" pictures of themselves posing beside the giant white rubber Michelin Man.
It destroyed the long-held mystique Michelin once possessed. Thankfully, it had taken me all of two seconds to say "thanks but no thanks" to their invitation.
I'm not a Michelin fan, nor indeed am I a fan of the World's 50 Best Restaurants (of which I was a judge for three years). Ireland has largely been ignored by these bodies in the past and they are all so pretentiously up their own… "class", shall we say.
lucindaosullivan.com
First Published In The Sunday Independent