Our Latest Great Place To Eat - Hen's Teeth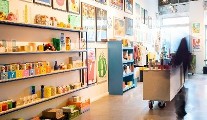 Friday 04 March 2022
If you're looking for a breath of fresh air, in the culinary realm, I recommend checking out Hen's Teeth in Dublin 8. Not only do they have a fab café cum restaurant serving a great variety of eclectic dishes, but they also operate a bright and bubbly store dealing in snacks, booze and pantry fillers like sauces and preserves, not to mention a fantastic variety of unusual and unique homewares, clothing and body care products. Besides from this, they also have a stylish gallery space, boasting an array of provocative illustrated and photographic art works with a very modern vibe. They do buzzy events on Wednsdays and Thursdays, and feature live DJs at the weekend.
Turning our attention back to their café, however, the Executive Chef is Killian Walsh, who is turning out some great contemporary fare with a difference, offering food that is simple and inclusive to most tastes, yet perhaps less usual than what we see on most menus.
The lunchtime menu changes regularly and features a superb assortment of dishes to sample, but if you really want a fab evening, check out their a la carte menu.
Starters include the likes of smoked Cheddar croquettes served with a gooseberry preserve; warm Morteau sausage with Dijon mustard; as well as Connemara oysters with green chili ice and dill. Prefer a lighter bite? Keep it simple with bread and butter; smoked almonds; or olives.
For the mains, there are plenty of interesting dishes to mull over, with fishy treats like crispy Kilkeel crab claws served with nam jim and lime; raw wild bass with pickled baby onions and fermented chili & ginger; along with fried octopus with Morteau sausage ragu, tomatillo jam and avocado.