Our Latest Great Place To Eat - Olive Tree Kitchen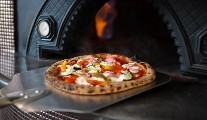 Monday 28 February 2022
Overlooking the beautiful Ballyquirke Lake, its lakeshore and woodlands walks are perfect. At the heart of Wildlands is the Olive Tree Kitchen in a wonderful funky retro industrial space doing terrific eclectic casual food to take away or dine indoors or on their terrace. It's been proving hugely popular for their terrific Napoli Firebrick Oven pizzas, hot dishes, sandwiches, salads, sweet treats, bakery option and their children's menu.
Lunchtime dishes include posh sambos a roast of the day ciabatta, Connemara smoked salmon plus chilli hummus on treacle bread with dressed leaves, red onion, dill, capers and pomegranate syrup.
Bigger dishes include the popular roast of the day, Moycullen Seafoods fish & chips, and a homemade 8oz Gilligan's beef burger with streaky bacon, smoked Applewood cheese, gherkin and tomato on a brioche bun. Of course you get fries too!
Seven pizzas run from Margherita through Pepperoni, Cajun chicken, Hawaii style, and a roasted garlic potato & spicy sausage pizza bianca. You can also get a gluten free base with a small supplement.