Our Latest Great Place To Eat - The Pier Cafe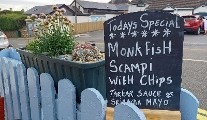 Thursday 24 February 2022
Tramore has long been one of Ireland's favourite holiday destinations. Known for its wonderful beach and, of course, its famous amusements which delight all of the family. However, in the past couple of years, it's become a destination also for good food with a variety of great shops, cafes, restaurants, and bars, spotting the opportunity and really raising the level.
At the forefront of these is The Pier Cafe Restaurant owned and run by top chef Malcolm Starmer and Manager Sara Walsh. Starmer was described by Richard Corrigan as a "phenomenal chef" who played a big part in the success of his former Michelin-starred restaurant Lindsay House in London.
I've had Starmer's food many times when he was working at top restaurants in Dublin, and you can be assured that anything that comes from his stove is top notch.
The menu changes seasonally but think of starting maybe with superb stuffed baby squid filled with feta & chorizo served with Romesco sauce, or indeed a classy classic chicken liver pate with roasted grapes, cornichons and toasted brioche.