Our Latest Great Place To Stay & Eat - Caisleáin Óir Hotel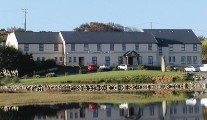 Tuesday 22 February 2022
Set in the heart of the Donegal Gaeltacht on Ireland's famous Wild Atlantic Way, Caisleáin Óir Hotel is a wonderful place to visit. Offering twenty spacious and tastefully appointed guestrooms, as well as some absolutely stunning views out over Annagry Bay, it has that feeling of total escape and the sort of beautiful rugged aesthetic that makes our scenery famous the world over.
The bedrooms at Caisleáin Óir all come as standard with flat screen TV, tea and coffee making facilities, iron and board, secure safe, complimentary bottled water and free wifi, but if you go a little further, you can add a bay view and a super king size bed to your experience. If you really want to push the boat out, book a stay in their Neptune Suite and let your troubles melt away as you sink into your own private jet-stream Jacuzzi.
They also offer some tailored add-ons like their range of welcome packages which include prosecco; Champagne; wine; and homemade sweets and cake. They even have rose petals available for your special getaway.
Once you're settled in, head down to Jack's Bar for a drink or some fab bar food by the cozy fireplace, and, on Saturdays, enjoy the great trad music sessions, featuring local musicians, Fior Uisce. For a more structured bite, book a table at their Zita's Restaurant which boasts a superb selection of delicious fresh locally caught seafood along with some great dishes coming by way of the butchers block. Veggie and vegan dishes available also.