Our Latest Great Place To Eat - Fish & Bean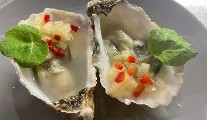 Monday 14 February 2022
Dave's fans were delighted when he and his wife Aine opened their own Fish & Bean Café at the Sligo Yacht Club at Rosses Point and it has been a huge success. Overlooking the Atlantic Ocean, it's cool, contemporary and there's plenty of outdoor seating.
You can have Lighter Bites or Bigger Bites or both, or you can order a selection and share with your friends and family.
Lighter Bites may include seared scallops served with smoked bacon granola and a warm tartare sauce. You can indulge in Coney Oysters served naked or Coney Island Crispy Oysters served in a tempura batter with lemon aioli – both are available in portions of 3/6 and you can add Goatsbridge Trout Caviar if you wish.