Our Latest Great Place To Eat - Hakkahan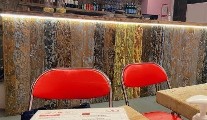 Thursday 10 February 2022
The Hakka Han is not an area in China but a subgroup of Chinese people throughout Southern China, including Sichuan, Hunan, and Taiwan. The man behind Hakkahan is Ryon Wen, a Hakka man himself while the Head Chef Terry Yang, who is from the Sichuan province has worked in top Chinese restaurants in Dublin.
We were sitting outside on our visit being looked after by a delightful young man. Hakkahan's menu allows for indulgence in a veritable feast of Chinese dishes at street food prices such as House Dumplings, Small Chow, and Mains but a few euro more.
Dumplings and Small Chow included Beef Siu Mei, the popular Prawn Har Gau, Roast Duck Dumplings, Pork Yuk Sung, and Sesame Prawn Sourdough – the hipster version of Cantonese prawn toast.
We kicked off with Dai Zi, a stunning quartet of sizeable emerald green wrapped parcels, packed with chopped scallops, embellished with hoisin sauce, sesame seeds, and sprinkled with watercress. They were absolute mouthfuls of heaven for which I'd make a return visit to the 'Batter' alone.