Our Latest Great Place To Stay & Eat - Cunningham's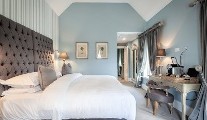 Friday 28 January 2022
If you're looking for a great place to stay and eat, with plenty of shopping and attractions nearby, look no further than Cunningham's Kildare. Set in 'The Round House' building, which has been a commercial site since the beginning of the 19th century, Cunningham's has been going strong for more than a century, which makes a strong impression in itself.
They say their rooms are inspired by their love of luxury and travel, and this is beautifully borne out in the attention to detail given to each of their ten guestrooms, from plush bedding and tasteful décor to mod cons like widescreen smart TVs and WiFi.
Once you've settled in, head down to their fab bar which has plenty of space while also offering a wide variety of little nooks to disappear off into. Cunningham's is a traditional Irish pub and, several nights a week, hosts some great live trad music, to go with the superb food and buzzy inviting atmosphere. The large open fire is a beacon of warmth in colder months while the large selection of whiskeys, wines and beers draws eager customers throughout the year. Sports fans are covered with live events being shown on five screens spread throughout the bar.