Our Latest Great Place To Eat - Coal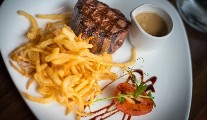 Friday 21 January 2022
It was a truly enlightening experience, eavesdropping on passers-by as they commented on the menus and the interiors. "That looks nice – cocktails too – and Sunday lunch." Needless to say they were also none to subtly looking at my plate, which certainly didn't let the side down, as I was quite delighted with myself sitting outside and enjoying delicious food and attentive service. On that day, I'd had a superb Parmesan and pea risotto, elegantly presented, on a pea veloute with Serrano ham crisps, followed by confit duck leg with sweet honey and thyme roasted carrot, a sizeable smoked bacon and spring onion potato cake, Savoy cabbage and a berry compote. No detail was missed, all the little high end touches were there, I was very impressed.
Colm Corcoran and Barbara Bond's Coal is a family run restaurant where Head Chef Colm offers terrific food to suit everyone, as well as great cocktails and an extensive wine list including Champagnes. The restaurant name is a nod to both the 'black rock' of their location and the coals they cook on, which lend that special flavour to their steaks and other chargrilled dishes.
The menu changes but starters might include dishes such as battered salt & chilli prawns with a sweet chilli dipping sauce; duck spring rolls with fennel & orange salad with hoi sin sauce. Goats cheese & beetroot salad with candied walnuts, poached pear, pesto dressing and Balsamic reduction. There are ever popular dishes too such as chicken wings, panko crumbed deep fried Brie, plus chicken liver pate with toasted sourdough, citrus fruit segments and quince jelly.