Our Latest Great Place To Eat - Dooley's Seafood & Steakhouse Restaurant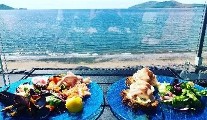 Thursday 20 January 2022
Dramatically located on the Ring of Kerry, getting to Waterville can be a somewhat hair-raising drive at times, particularly if you come upon a broken-down German coach crawling up a narrow cliff road, as we did on one occasion, with the passengers walking behind it. But the drive is part of the whole experience, just stunning, and when you arrive in Waterville you just totally relax and chill out.
David and Katie Farrell are two of the most experienced people in the restaurant industry. There are no short cuts, what they do is top class in every way, top class produce, top class service. David worked in the US in the high-end Smith & Wollensky's steak houses while Katie, who grew up in the restaurant biz in her mother's restaurant in Caherdaniel, having a Hotel & Catering management degree under her belt, worked for a period in New York. However, the ambitious Katie, aged just 23, bought her first restaurant The Blue Bull in Sneem in 1992, which I remember being in with Terry Keane way back when we were staying with her at nearby Rossdohan one summer. Terry wasn't the only celebrity visitor for it was frequented by the likes of Neil Jordan, Mary Black, Charlie Haughey, and U2's Larry Mullen who took over the restaurant for his 30th Birthday.
Now David & Katie, who also have The Scarriff Inn at Caherdaniel are wowing visitors and locals at Dooley's with the very best of fresh lobster from The Tank, oysters galore, the very best of prawns, fillet of monkfish with crispy fried potato rosti, buttered spinach, in a mushroom and Champagne cream, and hake with cracked black pepper gnocchi and garlic prawns. Rack of Kerry lamb, none better, is herb encrusted and served with red onion jam, port & rosemary reduction and scallion champ, while crispy half duck gets the oriental treatment with pak choi, pickled shitake mushrooms, orange sauce and soy gel, a dish which has been recommended by Andrew Lloyd Webber - who used to do a restaurant column. Did I mention steaks? Think delicious centre cut Hereford sirloin with red onion gel, saute onion & mushrooms, and your choice of sauce.