Our Latest Great Place To Eat - Chapter One by Mickael Viljanen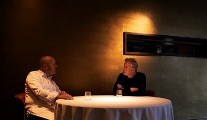 Wednesday 19 January 2022
Ross Lewis had been delighting diners with superb food at his iconic Michelin starred Chapter One restaurant on Parnell Square for thirty years. Always innovative, Lewis has never been one to sit on his laurels, always striving with his team for further perfection, but the relaunch in 2021 as Chapter One by Mickael Viljanen took Dubliners totally by surprise and has been a marriage not only of convenience but a marriage made in heaven.
Lewis had decided to step back from the kitchen passing that baton to Mickael Viljanen, who had 2 Michelin stars at The Greenhouse had long desired to move forward to having his own name over the door.
There wasn't any 'beef or salmon' on the first night when I was there, but there was a palpable air of delightful excitement amongst the team. During the long lockdown closure Lewis and Viljanen had conceived of a sleek new elegant restaurant that has reached stratospheric heights on all fronts – right now there is nothing else to top it in Ireland. However, what I also love about Chapter One is that there's a sense of friendly formality, it is not in any way intimidating, and you cannot put a price on the value of the Dublin sense of humour as one of the waiters, moving the drinks trolley past us, quipped "duty free"?