Our Latest Great Place To Stay & Eat - The Imperial Hotel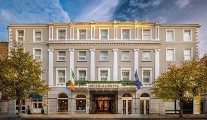 Sunday 09 January 2022
For over 200 years the Grand Dame of Cork has welcomed global figures including Charles Dickens, who did a private reading in the hotel before heading the kiss the Blarney Stone. William Makepeace Thackeray, who gave us the wonderful adventuress Becky Sharp in his 1848 novel Vanity Fair, visited, as did Daniel O'Connell, not to mention composer Franz Liszt who gave a piano recital in the Clarence room. One hundred years on from his death, we recall too that our great Irish hero Michael Collins spent his last night in the Imperial, before heading next day to West Cork where in August 1922 he was ambushed and shot at Beal na Blath.
One of the most famous and beautiful women in the world, movie actress Grace Kelly, or Princess Grace of Monaco as she became, stayed with her husband Prince Ranier and their children as part of their state visit to Ireland in 1961, while Maureen O'Hara who retired to Glengarriff, and Angela Lansbury who had a home in East Cork, were both regulars.
The spirit and style of all these famous people lives on in the Imperial, which in the past few years has had the best part of €20m invested in it turning it into one of the most luxurious and elegant hotels in the country.
Whether you choose to stay in the Penthouse, their Junior Suites, or their Classic, Premium, or their Deluxe rooms, you will be cosseted in luxury, each one offering a peaceful serene environment. All rooms have complimentary WiFi, mineral water, air conditioning, JJ Darboven capsule coffee machines, hairdryers, iron and ironing board, 24-hour room service, luxury bathroom amenities, laundry service and a personal safe.