Restaurant Review - Chakra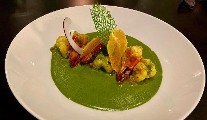 Wednesday 10 November 2021
A top decorative artist once told me, when designing a room, start with the ceiling and work down. It's not something I'd have ever thought of but it certainly didn't escape restaurateur Asheesh Dewan when revamping his Chakra restaurant in Greystones, as the vast black ceiling embellished with botanical flowers is beyond stunning.
It's not the first time Dewan — who owns the Jaipur Group, with restaurants also in Dalkey, Dundrum and Malahide — has gone for drama above eye-level; I'm always fascinated by the magnificent, expansive, water-lily-like silk shades in Ananda, his Dundrum Town Centre restaurant.
Dewan was ahead of the posse in choosing the pretty village of Greystones in 2005 for a major restaurant. At that point, it was still a relatively sleepy village. The Dart line was extended to Greystones in 1999 but its effect hadn't really been felt yet. Nowadays, the village has expanded greatly, and the main street lined with restaurants, coffee shops etc.
lucindaosullivan.com
First Published In The Sunday Independent