Restaurant Review - Big Fan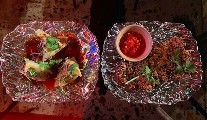 Wednesday 03 November 2021
In the past couple of years, Aungier Street has been catching up with its neighbours, bridging the restaurant gap between George's Street and Camden Street. One of the most recent additions is Big Fan, an Asian restaurant which has been tickling the tastebuds of the hip crowd. Certainly this once-dreary street was busy, even on a Tuesday night.
Navigating the human traffic, we ducked into the doorway of Big Fan to check in. Online, inside had been showing as booked out, but I'd managed to get a table outside. However, on arrival, I found myself being swept in by a friendly meeter-greeter, who said, "It's too cold out there". I'm still a bit wary about eating indoors, but as she pointed to the best spot in the house, a corner table for four closest to the pass, my qualms were quickly quelled because, the truth is, I'd sell my soul for a good table and this was too good to turn down. I could survey the room with my back to the wall and also watch the activity in the kitchen.
The vibe here is '1960s Hong Kong diner meets San Francisco Chinatown' and punters are loving it. There's a neon-lit, lacquered-look red ceiling above simple wood-panelled walls and terrazzo flooring. There are smoky-glass tables, a couple of hightops, and a gold fringed curtain leading to the spotless loos.
lucindaosullivan.com
First Published In The Sunday Independent