Restaurant Review - Mikey Ryan's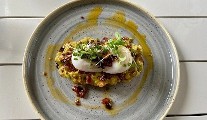 Wednesday 20 October 2021
Even though I've lived in Dublin for pretty much all of my life, I've never seen the Book of Kells in Trinity. I've ticked the boxes for lots of major attractions in other countries, but we take our own 'wonders' for granted, thinking, "I must do that some day." That said, one of the first places I visited in Ireland, as a teen, was the Rock of Cashel.
Heading south for Kinsale recently, we decided to stop off in Cashel for lunch and, as we whizzed along the road, I still got that same feeling of awe and excitement when the Rock came into view.
Obligatory Twitter photos taken, we drove on, to be very pleasantly surprised at how busy and buzzy the town was on a Saturday lunchtime. The restaurants and coffee shops were packed, people were dining both inside and out, and it was really a great sight to see.
lucindaosullivan.com
First Published In The Sunday Independent