Restaurant Review - The Cove @ Fota Island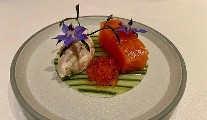 Wednesday 13 October 2021
Have you noticed, while staycationing around our island, that accommodation, service and food, in hotels, guest houses, restaurants and pubs has never been better? It reminds me of the recession's innovation boom, when businesses were tanking and people had to get creative in a hurry. Necessity is the mother of invention.
My recent visit to Fota Island Resort in Cork was a perfect example of this. Covid-19 regulations were meticulously implemented, but somehow you were never aware of there being anything being out of the ordinary. From arrival to departure, it was a masterclass in good management.
Located by Fota Wildlife Park, the five-star resort was developed in 2006 to include a 131-bedroom luxury hotel, plus self-catering lodges, on magnificent grounds with wonderful walks, a spa centre, and three golf courses.
lucindaosullivan.com
First Published In The Sunday Independent