Restaurant Review - Mae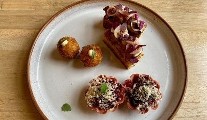 Wednesday 22 September 2021
I have a love-hate relationship with online restaurant-booking systems. They can be handy, but too often I end up kicking the leg of the desk in frustration when a new hotspot announces that booking opens at precisely one minute and 12 seconds past the hour and, despite my best efforts, I never seem to win the sprint. This was the case for the opening of Gráinne O'Keefe's new Mae restaurant in Ballsbridge. With a reminder set for 10 minutes before kick-off, and armed with a fortifying double espresso, I had my finger poised to book a table for two in its first week. The time came, and went, and... nothing. "What the hell...?" I thought, getting madder and madder. Then I changed the setting to three people, and, just like that, had a table for the following week.
There are only 16 covers until restrictions fully ease, but my booking wasn't ideal as I was working and didn't want to bring two guests. I consoled myself with the thought that, for some, booking a hot new restaurant is merely a sport to boast about to their Twitter 'friends', and with all the no-shows we hear about, I might still get the booking I wanted, and right on cue, on the morning of Mae's second day, up popped that table for two!
There have been many cheffy collaborations throughout the pandemic, including the stunning teaming up of Ross Lewis and Mickael Viljanen, and the relaunch of Lewis's iconic restaurant as Chapter One by Mickael Viljanen.
lucindaosullivan.com
First Published In The Sunday Independent