Restaurant Review - Marco Pierre White's Courtyard Bar and Grill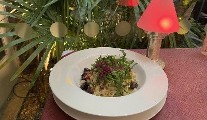 Wednesday 15 September 2021
Much has been written about Marco Pierre White down the years, but did you know that his favourite off-duty food is fish 'n' chips? I discovered this when Marco began heading the judging panel of The Restaurant TV show, on which I've been a guest judge a number of times.
There's a lot of posturing and 'being Marco', but that's all just part of the game for the original 'angry young chef' of Hell's Kitchen fame, who, aged 32 in 1994, was the first British chef to be awarded three Michelin stars. However, this son of Leeds loves to slip off for a 'one 'n' one' at his favourite Dublin chipper, or for a day's fishing.
Five years after reaching his three-star goal, Marco stunned the culinary world by handing back the stars he'd spent 17 years striving for, and changing direction by franchising restaurants serving classic French food.
lucindaosullivan.com
First Published In The Sunday Independent