Restaurant Review - The Smoke House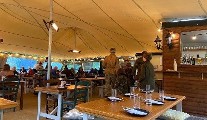 Wednesday 18 August 2021
The early morning sun was beaming down from the heavens in Monkstown one Sunday morning, so I rang my friend Mary and arranged to head to Wicklow for a day of faffing around, shopping, coffee and, ultimately, Sunday lunch.
By the time I'd picked Mary up in Greystones, the skies were overcast, and when we hit the shops further south in Ashford, at Mount Usher Gardens, a fair drizzle was coming down. Undaunted, we enjoyed coffee and long-overdue girly stuff, trying on colourful summer linens — which suddenly didn't seem so attractive when we realised autumn fashions would be in the shops this month.
On we went to check out a new interiors shop, Distrikt by Mia, at the port in Wicklow town, where I succumbed to a lovely bohemian-style orange and purple Indian throw, which had been made from saris.
lucindaosullivan.com
First Published In The Sunday Independent