Foodies Fight Back with Lucinda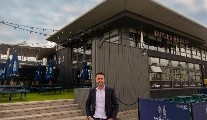 Friday 06 August 2021
When the country went into its first lockdown, I wondered what I could do to help the food and hospitality industry, which had arguably been hit hardest of all.
With everyone stuck at home, many goods-based companies experienced an online renaissance through the likes of Amazon, while tech businesses like Netflix thrived as well, not to mention big pharma and the companies responsible for billions of masks and an ocean of hand sanitiser.
Meanwhile, the hospitality industry was at a horrifying standstill. People were bewildered and hurting badly, trying desperately to cope with what was happening to their lives and livelihoods.
I pitched an idea to my editor for a weekly column focusing on four different people and their businesses, at different ends of the industry, giving them a platform to tell their stories, express their views, and get anything they wanted to off their chests in a completely unhindered fashion.
He was immediately very supportive of the concept. I thought it would run for three months or so, never dreaming that almost a year-and-a-half later I would still be doing it.
During that time, I have interviewed 256 people countrywide, discussing Covid's impact, as they have pivoted their businesses through four lockdowns with takeaways, food boxes, food trucks, online cooking classes etc.
Some have left their high-paying, high-pressure jobs, to work now at a more holistic pace, such as chef Tom Flavin, featured today, who appeared in the first Foodies Fight Back.
With hotels now open, and indoor dining kicking off again tomorrow, I think it is safe to say (fingers-crossed) that we are getting back to some sense of normality.
I would like to thank all the wonderful hard-working people I have interviewed since May 2020, and all of the readers who threw their support behind our fabulous industry.
So, without further ado, job done, I give you my final four Foodies Fighting Back.
THE GASTROBAR
"We just want to get back to work and believe we can do it safely," says Shane O'Farrell of Butler & Barry Gastrobar, which enjoys breathtaking views on the promenade in Bray, Co Wicklow...
lucindaosullivan.com
First Published In The Sunday Independent