Restaurant Review - Le Comptoir Cafe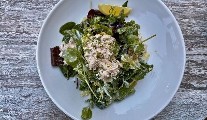 Thursday 05 August 2021
One of the best-known players in the Dublin dining arena is not a Dub at all, but a Tipperary man.
Ronan Ryan started out in the hospitality industry as a teenager, working part-time in his uncle's hotel in Thurles, and got a liking for the biz. He trained as a chef in GMIT, before departing at 18 to work in restaurants and bars in London, Italy and the US.
On his return to Ireland he worked in Il Primo off Harcourt Street along with two brilliant chefs, Anita Thoma and Temple Garner.
lucindaosullivan.com
First Published In The Sunday Independent